Research in Computer Science
Research in Computer Science is focussed on three themes, which can often overlap to maximise synergies and resources: Visualization and Medical Graphics; Knowledge Discovery; and Complex System Modelling. Many of our staff collaborate with researchers in other Schools at Bangor, as well as leading research groups throughout the world.
Research Facilities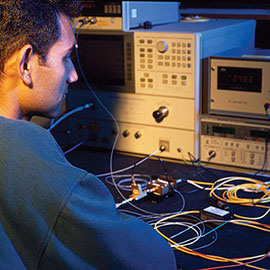 Our Computer Science research facilities include a rear projected stereoscopic Powerwall (2.8m by 1.8m screen), a wide range of haptics (force and tactile feedback) devices, various desktop stereo and headmounted displays, high resolution and high speed cameras, a 3D printer, magnetic and optical trackers, and an eye tracker.
In addition, the Visual Perception laboratory is set up for conducting subjective experiments measuring performance of the visual system as well as quality evaluation of visual content. The laboratory provides high quality, colorimetrically calibrated displays and well controlled viewing conditions. A unique piece of equipment is a custom-built high dynamic range display, which produces images of extremely large contrast (up to 240,000:1) and brightness (up to 2,500 cd/m2).