Ms Jane Lee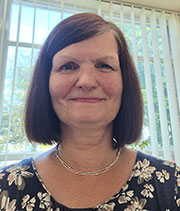 Name

Ms Jane Lee

Position

PA to Head of College and Dean of College

Email

Phone

01248 382603

Location

 Thoday, Room G20
Secretary to the following College Committees:
Ethics and Governance Committee
Health and Safety Committee
Logistics Committee
Management Board
Jane joined Bangor University in June 2003 as a Secretary in what is now the School of Natural Sciences, holding various secretarial positions, including Secretary to the Head of School.  Jane was appointed PA to the Dean of College in the College of Natural Sciences in its formative year (2007).  The College subsequently merged with the College of Physical and Applied Sciences to become the College of Environmental Sciences and Engineering in 2018.  Jane now provides PA support to the PVC/Head of College and Dean of College as well as general administrative support, including secretariat for the above Committees.
Jane enrolled on a part time degree course (social history) with Bangor University's School of Lifelong Learning between 2007-2012 and graduated with a BA in Combined Studies (First Class Honours) in 2012.