A new joint venture for the Prince Madog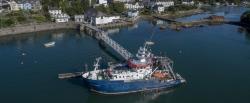 Bangor University has today (29.1.21) announced a new joint venture to manage the Prince Madog Research Vessel from 1st January 2021.
The Joint Venture, P. Madog Offshore Services Ltd (PRIMOS) is with O.S. Energy (www.os-energy.de). Based in Glückstadt, Germany and Newcastle, UK O.S. Energy are a family owned company who specialise in offshore wind industry and environmental survey work in the North and Baltic Seas, operating a fleet of vessels.
In addition to providing teaching opportunities to Bangor University students, the Prince Madog has a long pedigree of contributing to marine research in all disciplines. This is set to continue, with a renewed focus on the marine renewable energy industry, which the Prince Madog and scientists at the School of Ocean Sciences have been supporting through their research in recent years.
The Prince Madog is unique in the UK capable of taking students on multi-day teaching trips to the edge of the continental shelf and this will continue under the new joint venture.
Professor John Turner, Head of the School of Ocean Sciences added:
"The ship is vital in supporting our training of the next generation of marine scientists. All of our undergraduate and postgraduate taught students (over 250 in a normal year) benefit from the unique experience of working on a research vessel at sea, using scientific equipment to assess processes, water quality and measure the abundance and distribution of marine life, and this part of the learning experience is set to continue."
Both parties also hope to extend their research in marine renewable energy, and the joint venture could lead to more technical work being carried out at the School of Ocean Sciences.
Professor Paul Spencer, Pro VC Research and Innovation at Bangor University underlined this saying:
"The new joint venture ensures that Bangor University builds upon our world leading understanding of the environment and physical positioning of marine energy sites by partnering with a leading marine logistics and survey company. Commercial expansion of the marine sector relies on scientific knowledge, and we are delighted that our expertise both within the School of Ocean Science and via the Prince Madog will form an integral part of the new joint venture to support this important industry sector."
Vincent Nuernberg, Managing Director, O.S. Energy identified that:
"The Prince Madog is a perfect addition to our fleet which are operating in the European offshore wind oil and gas industries. We are proud to take over P&O Maritime Services' role as manager and join and Bangor University as new partners. Additionally, this new partnership provides easy access for the University to further specialist vessels in the fleet of O.S. Energy. We are looking forward to this long-term partnership."
Publication date: 29 January 2021