Award recognises excellent work from SENRGy student.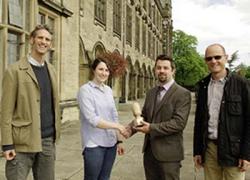 Left to right: James Walmsley, Mary Crossland, Iwan Williams and Mark Rayment.Mary Crossland from Wimbourne, Dorset, and based in the School of Environment, Natural Resources and Geography (SENRGy), has won the Tilhill Forestry Phil Johnson Memorial Award for Best Silviculture Student 2015/16 with the highest mark for the DDL-4202 Silviculture module achieved by an MSc student in the 2015/16 academic year. She was presented with a specially carved wooden trophy in the shape of an acorn by Tilhill Forestry Regional Harvesting Manager Iwan Williams along with £250.
Phil Johnson worked for Tilhill Forestry for many years and was Regional Manager for England and Wales when he passed away following a short but valiant battle against cancer three years ago. During his career he made a huge contribution to the company including setting up the UK's largest privately owned mountain bike centre at Coed Llandegla, Wales.
As part of the company's work to strengthen links with students, Tilhill Forestry offers awards to top performing forestry students at leading universities which offer degrees in Forestry. The company also runs a popular graduate placement scheme.
Mary said: "I am very grateful to Tilhill Forestry for offering this award. To receive it has been a real honour and one of the highlights of my time studying at Bangor University."
Iwan Williams added: "We run an awards programme with a number of universities across the UK but this award is extra special as it is in memory of a greatly missed colleague. We're delighted to continue to support Bangor University and recognise the hard work of students who are studying forestry. It's an excellent university which regularly feeds students into our graduate trainee programme."
James Walmsley and Mark Rayment, Lecturers in Forestry at Bangor University, said: "We would like to thank Tilhill Forestry for offering this attractive prize. Mary was an outstanding student with an astonishing average mark of 90.5%! Mary has since proved this was not a one-off, achieving similar marks on other modules. Mary will shortly leave the UK destined for Ethiopia where she will undertake her MSc dissertation field work data collection and we would like to wish her well with this exciting endeavour."
Mary will be attached to the World Agroforestry Centre (ICRAF) to conduct her fieldwork under an IFAD funded project that is working towards restoring degraded lands in Ethiopia: http://www.worldagroforestry.org/project/drydev/goals
Forestry has been taught at Bangor for more than 110 years, and its forestry degrees are accredited by the Institute of Chartered Foresters. Mary is a student on Bangor's MSc Agroforestry programme, which has been running since 1978 and from which students from over 100 countries have graduated. Tilhill Forestry has a long association with Bangor University as many of its past and present employees have studied there.
For the full Tilhill Forestry press release click here.
Publication date: 19 May 2016