Bangor University Student completes a GO Wales Work Taster
Bangor University student Mollie Duggan Edwards, 20, from Bethel near Caernarfon, has recently completed a GO Wales Work Taster at the Welsh Mountain Zoo, Colwyn Bay.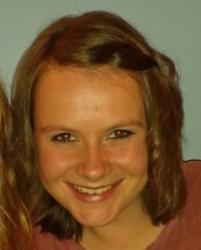 Mollie is in her third year at Bangor University, studying Marine Biology. She applied for the taster in hope of gaining some valuable work experience to build up her CV. Mollie said,

"I thoroughly enjoyed my GO Wales experience at the Mountain Zoo. My job title was 'Young zoologists club assistant'. As the title suggests, my main duty was assisting the 'young zoologists' with activities throughout the day. Activities included: educational talks by zookeepers, trails around the zoo, feeding interactions with animals, craft sessions, and games on the lawn. It was lots of fun!

"The young zoologists were children aged 8-12 years from the local area. All of the children present seemed to have a passion for wildlife - which was great to see! Many of the children were present for all of the young zoologist days - which ran every Tuesday and Thursday throughout August.

"The young zoologists days were extremely educational, I was surprised how much I learned from them! One of the best things about this programme is the interaction between zoo staff and children. The children attending the zoo club are invited 'behind the scenes' and are allowed to partake in activities that regular visitors would not be allowed to partake in.

"Each day was allocated a different theme, for example 'fish day', 'reptile and amphibian day', 'mammal day', to name but a few! On each of these days, activities were set around the theme of the day. On fish day, we assisted the children with feeding the Californian sea lions - this was lots of fun! On herbivore day, we assisted the children with feeding the camels. The Education Centre was the base for the zoo days, it is a charming building full of all kinds of live animals - from ferrets to toads. The children were learning about the animal kingdom, and were never too far from a live example!"


This was Mollie's first experience of working with children in an educational environment. As a result of this work taster, she is now considering a career in primary education.

Lis Owen, Go Wales Work Taster Manager said, "The Welsh Mountain Zoo has offered students valuable work experience through the GO Wales Work Taster programme since 2004. We recently presented the Educational Officer, Sue Coleman with the 'Most outstanding contribution to work experience' award at the GO Wales 10th Birthday awards.
"They provide a unique opportunity for Zoology, Biological Sciences and Education students to help run activities over the summer for the Young Zoologist Club.
"As well as having lots of fun, students are able to experience the work involved in running the zoo during the busy summer months whilst also developing degree related skills to enhance their CV."
Sue Coleman, Education Officer at the Welsh Mountain Zoo said, "It was extremely useful to have the extra help in the peak season for planning, preparing and running the Young Zoologist Days summer programme for unaccompanied children aged 8-12 years old."

Mollie added, "My work taster experience was extremely enjoyable, but most of all it opened my eyes to alternative career pathways. For anyone considering a work taster - I thoroughly recommend it."
Publication date: 14 October 2013