Experienced engineer changes tack for a career in the energy sector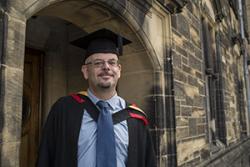 Ray OsbornA heating engineer with a keen interest in the solar energy market returns to Bangor University this week to receive his MBA Environmental Management degree.
Raymond William Osborn, 46, from Market Harborough, Leicestershire has over 25 years' experience in the workplace, largely in technical roles in the engineering and construction industries. Ray is currently employed by Lincoln College in Saudi Arabia in helping to establish a chain of vocational colleges. HIs role is to coordinate and manage vocational programmes, write curriculum and lecture in engineering and business.
After extensive travel and work abroad, Ray returned to the UK to study a degree in Conservation Biology at the University of Northampton. He was then offered a scholarship to study for an MBA at Bangor University.
Making good use of his background in the plumbing industry, Ray teamed up with the School of Electronic Engineering for some research on the future of the solar energy market in Wales. It is often thought that Wales is unsuitable for solar energy generation, but actually it is as good as Germany, which produces a significant amount of its energy requirements by solar. Ray collected data by interviewing solar electricity businesses and householders across Wales to find out more about perceptions of generating energy from the sun. It is hoped that this data can be used to gauge projections for the Welsh Solar Photovoltaic Market, including the number of jobs that may be created in this growing area.
About his time at Bangor, Ray said: "I chose to study at Bangor University as its Business School has great reputation and being a keen hiker, the delights of the surrounding landscape are quite obvious.
"Whilst studying for both of my degrees I worked four consecutive summers in Vienna, Austria as a qualified EFL English Teacher. Additional demands were put upon me whilst working full time in the final summer and trying to run my dissertation at the same time, however it did not appear to impact on my performance achieving an 'A' for my dissertation.
"When I had free time I utilised my engineering skills to help configure and create electronic sensory equipment to record and calculate thermal performance of natural insulation materials for independent research at the University. I also found myself becoming a mentor to both younger and foreign students due to my vocational/academic background, work history and international experience.
"Now that I've received my MBA, I hope to form a career specifically in the environmental sector and fully utilise the benefit of my four year academic study."
Publication date: 16 July 2015