First-class masters for Ryan
Ryan Doggart, 22, from Belfast graduated with a first-class Masters of Environmental Science degree after four years of study at the School of Environment, Natural Resources and Geography.
Growing up with his twin brother, Peter, who also graduates from Bangor University this week, Ryan said that they "have always been competitive with each other." Both were on the Northern Ireland National Karate Team for many years and Ryan had always been a keen outdoorsman. Situated between the mountains of Snowdonia and the Menai Strait,and combined with a world-leading environmental academic school, Bangor University was the obvious choice for Ryan.
A former pupil of Sullivan Upper Grammar School, Holywood, Ryan said: "I can't believe it's time for graduation already, four years has gone so quickly! It's somewhat of a bitter-sweet feeling, I am excited about what the future holds and where I will end up, but I'm also incredibly sad about leaving all of the amazing people I have met during my time at Bangor University. It has been incredibly hard work, but I shall never forget the good times I've have.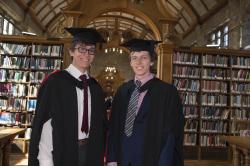 Ryan (left) and his brother Peter"During my time at Bangor I have took part in a number of incredible projects and placements, with my Masters work placement at the National Trust in Lizard, Cornwall being my fondest memory. Working as a countryside ranger in one of the most beautiful parts of the UK has given me loads of valuable practical skills and wildlife knowledge. Another high point was my third year field trip to Tenerife, where I saw some incredible things and had an amazing time with my course mates.
"Clubs and societies played a huge part in my time at university and I have met so many awesome people by getting involved with the amazing variety of clubs that the Students' Union provide for free. The main club I was a part of was, the Mountain Biking Club, (later the Cycling Club), which allowed me to go riding every weekend with a great group of people and being on the committee allowed me to gain some valuable team-working experience. I also had the chance to race at the Downhill University Championships which was also an awesome experience. The cherry on the cake for me was getting awarded full sporting colours for my contribution for the club, it was awesome. I also really enjoyed climbing with the Mountaineering Society.
"During my time at Bangor there were several bereavements within my family and my mum was unwell throughout my time at university. I found it quite hard to stay focussed at time, particularly during exam periods. But having loads of awesome friends around me certainly helped.
"I've now returned to Cornwall to volunteer for the National Trust whilst searching for a job. In the future I hope to get a job as an ecological consultant and live somewhere close some rad mountain biking!"
Publication date: 15 July 2015