Gender Equality Scholarships 19/20 Awarded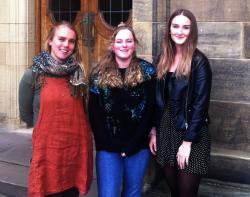 L-R Claire Carrington, Ally Jackson, Victoria ChineryThree 'Gender Equality Scholarships' have been awarded to outstanding Bangor University students – Ally Jackson, Claire Carrington and Victoria Chinery. All three were undergraduate students at Bangor and graduated with First Class Honours. The scholarships, which cover the full course fees, will enable the talented and enthusiastic students to continue their studies and the recipients of these scholarships are now enrolled in postgraduate research courses at Bangor.
Claire Carrington, 29, from Rhayader in Mid-Wales is studying for an MSc in Marine Environmental Protection, and said: "To be awarded the Gender Equality scholarship is an honour. This scholarship is enabling me to fully focus and dedicate myself to my studies whilst simultaneously addressing the continued global and national under-representation of Women in Science. Long-term I aspire to undertake a PhD and pursue a career in Marine Research and Conservation, attaining this scholarship is a significant step towards this goal. I am extremely grateful and strongly encourage prospective postgraduate students to apply for this great opportunity."
Victoria Chinery, 23, from Southend, Essex is also studying for an MSc in Marine Environmental Protection. Victoria said: "I am honoured to be awarded the Gender Equality Scholarship. Receiving this scholarship means that not only can I continue representing women in science but I am also able pursue my studies and hopefully continue on to a PhD. I am passionate about coral reefs and diseases therefore, being able to undertake this masters with the support of the scholarship means I can explore these interests further. I am very thankful to have been given this opportunity and progress in academia"
Ally Jackson, 21, from Leicestershire, is studying for an MSc in Neuroimaging and said "I'm absolutely thrilled and grateful to have received this scholarship. I can now wholly focus on pursuing my studies in Neuroimaging, with an end goal of completing a PhD conduction research into dementia. I am looking forward to the future!"
Bangor University is a member of the Athena SWAN Gender Equality charter and as such committed to gender equality and diversity, and to creating and promoting an inclusive culture for staff and students at all levels. The University's Gender Equality scholarships are to support graduating students in continuing their studies at Bangor - particularly in areas where there is an underrepresentation of women or men at postgraduate level, and/or a loss of women across the career pipeline.
Professor David Thomas (Pro Vice-Chancellor for Research & Impact) and chair of the University's Athena SWAN Group, said:
"The career development of women in science remains a key priority of the Athena SWAN agenda at Bangor and I am delighted that we have awarded these scholarships to three outstanding young female scientists. Providing a supportive environment for students like Claire, Ally and Victoria who are at the beginning of their careers is crucial. However, we also recognise and wish to address the underrepresentation of men at student level in subjects such as Health Sciences, Education, and Social Sciences and would encourage prospective postgraduate students to look out for these opportunities in the future."
Publication date: 5 November 2019