Geog Soc is going to the National Awards!
It is a proud week for the School of Environmental, Natural Resources and Geography with the news that the student Geog Soc has been nominated for 'Society of the Year' in the NUS Wales National Awards.
This follows hot on the heels of success in 2012 when Geog Soc scooped the prestigious 'Society of the Year' and 'Environmental Award' at the Bangor University Student Union Awards. The awards recognised their effortless campaigns on Fairtrade and 'Go Green Week', as well as student led trips to London, Dublin and to The Fun Centre, not forgetting amazing socials, events such as BBQs and the sell-out Christmas and Summer Balls.
During the Bangor University awards, Chairperson Chris Bibby won a Gold Award and Vice-Chairperson Charlie Wild won a Silver Award for outstanding contributions to their students union. Now, after receiving over 80 nominations, Geog Soc will be flying the flag for Bangor at the National Awards to be held in Newport later next month.
Chairperson for 2011/12, Chris Bibby said "I'm extremely proud that we have come this far, it is beyond the whole committee's expectations. It couldn't be done without the outstanding work from the committee that we had and the great effort from all of our members and staff who enjoyed every bit of the year, to be even nominated for the award is something, and if we win it, it'll mean so much to our department at Bangor, to both staff and students".
Chris has also been nominated for 'National Student of the Year' at the awards ceremony. Bangor Students Union has been nominated for 'Higher Education Students Union of the Year' too.
Well done to all those involved!
http://www.nusconnect.org.uk/news/article/wales/Shortlisted-for-the-NUS-Wales-Awards-2013/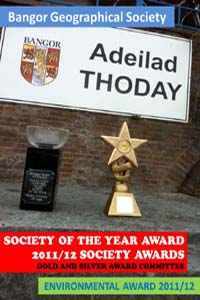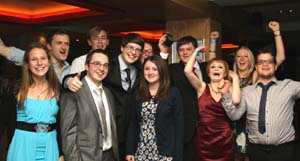 Awards Ceremony 2012: Winning Society of the year
Publication date: 4 March 2013