Graduation Profile – Sam Hamill
Sam Hamill, 22, from Brede, Rye, graduates this week with an MSci Marine Biology degree. Sam previously attended Tonbridge Grammar School and then Robertsbridge Community College.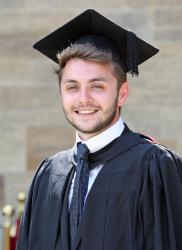 How does it feel to be graduating?
I have dreamt of graduating as a Marine Biologist for as long as I can remember! My parents bought me my first fish tank when I was 7 years old, and I knew then, as I do now, that I wanted to work with aquatic animals.
Background…
Starting secondary school I picked my GCSE subjects with my future career in mind, even taking French so that I could understand more of Jacques Cousteau's travel notes and memoirs. However, my primary focus has always been biological sciences, constantly pushing to expand my knowledge of the wider natural world. From the age of 14 I have worked in various aquatic shops in an attempt to get some first-hand experience in the aquatics industry and begin to build a CV for my intended career.
Why Bangor?
Firstly, Bangor was the obvious choice for me as it offered the best opportunity to study Marine Biology, particularly with the extensive equipment and facilities that Bangor has to offer, such as the RV Prince Madog, Bangor's own research vessel. An example of one of the many things, which no other university could offer.
Secondly, I will admit I was sceptical about moving 340 miles from Sussex to north Wales, however, when I first visited Bangor for the university Open Day; I fell in love with the surroundings. The scenery and local landscape is utterly jaw dropping. The University's Students' Union hosted lots of outdoor activities and the lifestyle that for me, growing up in the countryside, became a home away from home. Something that a university in a larger city could never have offered.
Working while studying…
During the first summer break I started my own company, an aquatic superstore based in Manchester, retailing marine ornamental livestock and equipment to public and commercial clients. I ran this company successfully through to the beginning of my Masters year at which point I decided it was time to part ways. What I managed to achieve during the course of my degree was more than I could have ever imagined, however, it was an exhausting few years and it was time to turn my attention back to my final year of university.
Student Experience…
During my time at Bangor I undertook several projects, however, by far the most dear to me are my work fieldwork research trips.
The first trip was to the Virginia Institute of Marine Science (VIMS), Virginia USA, a second year field trip offered to Marine Biology undergraduates. This trip was one of the most amazing experiences of my life where friends became family. Ever since we've all been inseparable.
The second was my trip to Gazi Bay in Kenya to work with the Kenya Marine Fisheries Research Institute on the Mikoko Pamoja Blue Carbon Initiative Forest Area. During this trip, I conducted research over a 7-week period, which formed the data on which my Masters thesis was written. I explored the way mangrove forests affect the biodiversity of benthic fauna within the forest, such as crabs and snails.
Highlights…
I have made true friends for life during my time at university within both the student and academic community. One of the first things you will learn about Bangor is it's a relatively small place, a place that nurtures close relationships with the people you study and work with. My friends have been absolutely amazing, carrying me through my ups and downs, no matter what, they have always been there and together we have made some pretty awesome memories.
The Future…
I am taking some time out to breathe after a very busy 4 years, however, I can't sit still for long and have some exciting opportunities in the pipeline for a little later in the year!
Publication date: 15 July 2019