Invictus Games Gold Medal Winner returns to education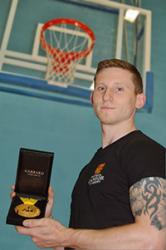 Lee MatthewsA gold medal winner at the recent Invinctus Games has recently started studying for a degree at Bangor University's School of Ocean Sciences.
Ex-serviceman and semi-professional wheelchair basketball player, Lee Matthews, 26, from Magor, Newport, south Wales, is currently enrolled on a BSc Marine Vertebrate Zoology degree.
Having a father in the Army meant that Lee grew up all over the UK and Germany and attended a variety of schools, the most recent being the Avon Valley College in Durrington. Following in his father's footsteps, Lee joined the Army Air Corps in 2006 and served in many places including Afghanistan.
Sport had always been a major part of Lee's life, he played football, rugby and was a keen fisherman. Following an operation Lee developed nerve damage in his back and was diagnosed with a hard-to-treat condition called visceral somatic syndrome which left him with mobility problems and severe pain.
Lee recalls: "One of the hardest things initially to deal with was the lack of physical activity and sport, after all as a solider you are trained to "be the best" as such. Life became a real struggle for a while. However, during my rehabilitation I was sent to a Battleback centre in Lilleshall where I was introduced to wheelchair basketball. I instantly fell in love!"
"After discovering Wheelchair Basketball, I contacted and joined my local team, the Cardiff Celts, they were really welcoming and helped me develop a lot as a player. Now that I've moved to Bangor, I've been accepted to play for the Rhyl Raptors which I train with a couple of times a week. I've had amazing support from the Army and charities such as Help for Heroes, and of course the Royal British Legion who introduced me to the sport."
After only getting into wheelchair basketball in early 2013, Lee took part in many events. He then applied for selection in the inaugural Invictus Games, an international sporting event for wounded, injured and sick Servicemen and women, championed by Prince Harry.
Lee said: "Being selected as a member of the GB Wheelchair Basketball team for The Invictus Games felt amazing, the competition for places was really fierce and everyone gave it their all. We bonded as a team really quickly."
"I met Prince Harry who's down to earth and really appreciates everyone's individual stories and recovery pathways. The Invictus Games were an amazing once in a life time opportunity for injured servicemen to represent their country and to hopefully show others that you really can achieve whatever you want to, you are beyond injury."
"I've always had an interest in the marine environment and chose to study at Bangor because of its excellent reputation in this particular field. I'm settling into my new surroundings and I'm hoping to start a wheelchair basketball team and compete with other universities. I want to promote the sport as much as possible, helping my club gain promotion along the way. My aim as a whole is to promote disabled sport as much as possible. The power of sport is amazing and from personal experience I know it can really change lives."
After completing his degree, Lee hopes to work in conservation or develop a career in marine related research. Lee is currently sponsored by Help for Heros and Blue Badge Mobility Insurance
Related stories:
'Bruise Suit' devised for athletes with impairments – BBC Website
Publication date: 7 October 2014