James maps his success after a year down under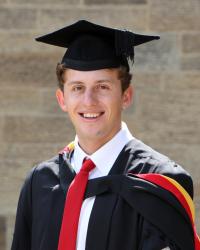 After three years of study, and year's work experienced in New Zealand, a Bangor University student graduated this week amongst lifelong friends.
James Michael Fay, 22, from Bideford, Devon graduated with a first-class BSc (Hons) Geography with International Experience degree.
Having been brought up in north Devon, with its stunning coastline and abundance of outdoor activities on his doorstep, attending a university close to Snowdonia National Park was a logical decision for James.
His love of the outdoors and surfing were also major factors in securing a work experience placement in New Zealand.
James said: "My work experience year in New Zealand was an unforgettable experience. I worked at Massey University's Geography Department, helping with fieldwork at some of New Zealand's most amazing landscapes, including Fox and Franz Josef Glaciers in the South Island.
"I learnt how to use state of the art surveying equipment and other industry specific skills that will hopefully help me find an environmental career. I also undertook a Geographical Information System (GIS) desktop study on behalf of Massey University for Tasman District Council at the end of my placement. This gave me a taste of consultancy work that I am looking to go into in the future.
"I'm relieved to be graduating, however, I will miss university life and all that it brings, the city and many the friends that I have made along the way.
"For the future, I hope to complete a postgraduate degree, then find a career in a successful environmental consultancy firm."
Publication date: 15 July 2019