Juggling self-employment and studying paid off for talented future geoscientist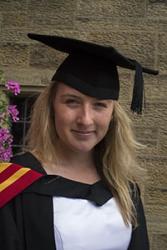 Bonita Barrett-CrosdilA self-employed dressage rider and horse trainer who juggled working whilst studying, graduates from Bangor University this week.
After studying for four years at the School of Ocean Sciences, Bonita Barrett-Crosdil, 22, from Pulborough, West Sussex graduated with a MOcean Geological Oceanography. This degree focused on the study of marine sediments within an Earth system science context.
Growing up on a farm, Bonita spent most of her childhood around horses. Having studied Physics, Economics, Geography and Spanish A Levels at the College of Richard Collyer, she aspired to be a geoscientist in the oil and gas industry.
Bonita is this year's recipient of the The Darbyshire Prize, which was established in 1986 with monies contributed by friends and colleagues of the late Professor Jack Darbyshire to mark his retirement from the Chair of Physical Oceanography. The prize is awarded for the best final year student studying for a degree wholly within the School of Ocean Sciences.
On choosing to study at Bangor University and her student experience, Bonita said: "I chose to study at Bangor as its School of Ocean Sciences has a fantastic reputation and the RV Prince Madog offers terrific opportunities.
"I was working self-employed throughout my studies, which was a struggle at times, however the horses were a healthy study break. I believe that this contributed to my success by allowing me to clear my head and re-focus on my studies.
"I'm very grateful to be awarded the Darbyshire Prize. It is lovely to have my hard work to be rewarded aside from my degree grade.
"There were many highlights during my time at Bangor University. My Masters project was very inspiring, I studied the effect of turning on shallow gas signatures using a model I wrote myself and I sought data and support from Statoil. I also had my paper abstract accepted to be presented at the International Geosciences Student Conference in Prague in July.
"Bangor University has given me the opportunities to develop myself personally and academically. I have endless support from the academic staff at the School of Ocean Sciences, particularly Dr Dei Huws, my supervisor for my third year dissertation and the fourth year Masters project. I have made lifelong friends and will look back at my time at Bangor proudly and fondly.
"It's a massive relief to be graduating. I'm very happy and really looking forward to the next chapter which is commencing a PhD in sedimentology and structural geology at the University of Leeds."
Publication date: 17 July 2015