Llew Rees Memorial Prize 2019
The University has awarded its annual award for sporting achievement, the Llew Rees Memorial Prize, to Theo Schoebel, for an exceptional year of domestic and international Karate successes.
Theo, an undergraduate student at the School of Natural Sciences, has previously represented Hong Kong in rugby but upon joining Bangor University Karate Club this academic year, he has notched up an impressive tally of results.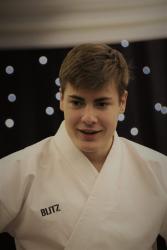 Theo Schoebel - Llew Rees Memorial Prize 2019 recipient
He first represented the University at the Welsh Open Championships earlier in the year and in doing so, returned with two Bronze Medals. He followed this with another Bronze at the BUCS Nationals – the first ever medal for Bangor University for Karate. As a result of his BUCS success, Theo has been chosen to participate at the European Karate University Championships being held in Zagreb, Croatia in August.
Theo's recent successes added to Bangor University's team win over Aberystwyth University at the annual Varsity Games. He was victorious in the Advanced Kata section and triumphed in the Male Kumite competition in some style, not conceding a single point and securing victory in under 60 seconds.
Theo was presented with the award and a cheque for £750 at the annual Athletic Union Dinner by Iona Williams, Bangor University Sport Development Manager, who said:
"Theo has worked extremely hard since joining Bangor University Karate club and has amassed an impressive tally of successes. We are honoured to present him with the 2019 Llew Rees Memorial Prize."
Upon receiving the annual prize, Theo paid specific mention to the support he's received and how the Llew Rees Memorial Prize will enable him to compete at higher levels, stating:
"I'm very thankful to everyone who has supported me throughout the last six months, especially the coaches and members of the Bangor Karate Union, without whom none of this would have been possible. I'm looking forward to attending the European Championships and seeing what else I can achieve on my karate competition journey. The Llew Rees Memorial Prize will help me with the cost of attending competitions and the equipment needed to compete internationally."
Publication date: 7 May 2019