Make a date to discover the world of farming at Henfaes Research Centre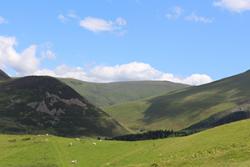 The upland ffridd at Henfaes – a site important for sheep farming, biodiversity, and carbon storage, as well as a number of the University's experiments. On Sunday 11th June 2017 Henfaes Research Centre (Bangor University's farm) near Abergwyngregyn (LL33 0LB) is opening its gates to visitors for LEAF Open Farm Sunday to showcase the fascinating world of agricultural research alongside commercial sheep farming.
– Opening time: From 1.00 pm – Until 4.00 pm
– Free entry
– See how our research influences farming. Farm tours are available at 1.00 pm and at 2.30pm. Demonstrations will also be held.
Henfaes is Bangor University's field research centre and also a commercial sheep farm. The livestock system runs alongside cutting-edge experiments on land that goes from sea level to amongst the highest mountains in Wales, all on one farm.
Visitors will see the array of on-going experiments and trials that we have here at Henfaes, alongside our commercial flock of Welsh mountain ewes and ponies. Come and learn about the role and importance of science in agriculture.
Prysor Williams from Henfaes Research Centre, part of the University's School of Environment, Natural Resources & Geography said, "The worlds of agriculture and research are often misunderstood or largely unknown. There is so much to see and learn at Henfaes. The team at Henfaes are proud of the work we do and are really looking forward to welcoming everyone here."
This event is one of hundreds of farms across the country which will be welcoming visitors on the 11th June 2017 as part of the farming industry's annual open day. Open Farm Sunday is managed by LEAF (Linking Environment And Farming); the leading organisation at the forefront of delivering more sustainable food and farming.
Annabel Shackleton, Open Farm Sunday Manager at LEAF commented: "Modern farming is incredibly diverse and impacts on all of us - from the clothes we wear to the medicines we take and the food we eat, as well as managing our beautiful countryside for us all to enjoy. Farming plays a vital part in all our lives. LEAF Open Farm Sunday gives everyone the rare opportunity to see farming in real life and to learn about the hard work, care and pride that goes into the work farmers do, which is so vital to the environment, our lives and the economy.'
To find out more about LEAF and Open Farm Sunday visit www.farmsunday.org or www.leafuk.org
Publication date: 6 June 2017