Ocean Sciences enjoy new links with oceanographers in China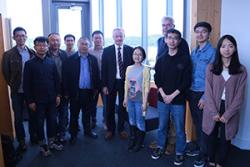 The new agreement, will also enable Bangor students conduct research with the Oceanography group at SYSU in Guangzhou, as part of their Year Abroad.The Vice-Chancellor Professor John G. Hughes has welcomed a delegation of Physical Oceanographers from Sun Yat-sen University, Guangzhou, China, on a visit to Marine Centre Wales, recently.
Oceanographers at Bangor University led by Prof Tom Rippeth have signed a Memorandum of Understanding with SYSU to develop research collaborations during a joint workshop hosted by Professor Jiaxue Wu (SYSU) and Professor Tom Rippeth (Bangor University) last September in Guangzhou. SYSU is a top rated International University, ranked no. 9 in China.
Last week Professor Wu and SYSU delegation made a return visit to Bangor to discuss further research collaborations and also to look at developing stronger marine science teaching links between the two Universities.
Prof Hughes was very pleased to welcome the SYSU delegation and to discuss strengthening Bangor – SYSU links.
Publication date: 24 July 2017