Prize winning student graduates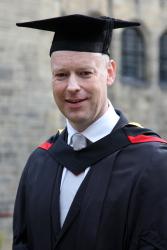 Patrick DuffyA Bangor University student who made a life changing decision towards a career in forestry and the wider natural world graduated this week.
Patrick Duffy, 44, from County Wicklow, Ireland was awarded an MSc in Forestry from the School of Environment and Natural Resources, and was also awarded the Tilhill Forestry Phil Johnson Memorial Award as Best Silviculture Student 2014/15, with the highest mark for silviculture achieved by an MSc student in the 2014/15 academic year.
Patrick started out in management:
"Then a job came up with the National Trust for Scotland, to run its very diverse heritage portfolio, which also includes landscapes, environmental management, forestry and wildlife management. I now work as the Chief Operating Officer of the Trust. The natural landscapes and cultural landscapes (including woodlands) forms a big part of our work.
On choosing to study and about his time at Bangor University, Patrick said:
"I was specific about wanting to study forestry, the science, practice and industrial elements and also forestry as a cultural/social topic. The course was also accessible around my circumstances, being able to study through distance learning. It is also modular and provides for a focussed approach to each area.
On working whilst studying:
"This is a challenge for anybody! Besides having to apply yourself to the topics, it does require discipline and organisation personally, with some sacrifices too. It's really important I would say to be genuinely interested in learning, which provides a natural boost in achieving better results as well as maintaining your levels of energy in completing the course.
About graduation day and his future, Patrick said:
"I feel relief and pride. It has been a big commitment when changing career and taking on a new role. It has been very rewarding and it will also be good to see others on the course having reached their goals.
"The future is an outcome of today! I'm going to focus on enjoying my graduation day.
"I'm in a career and organisation I enjoy immensely. I would like to see forestry become more popular…despite its title, studying forestry at this level provides a real insight into many subjects and life interests…scientific, social and economic. Arboreal studies, landscape design, community relations, cultural studies and even tourism will appear. If you're interested in trees – what they are and what they mean – this is a course for you!
Publication date: 15 December 2016