Promising future ahead for photographer Kristopher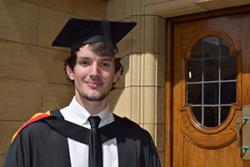 Kristopher HumphreysThe School of Ocean Sciences at Bangor University has been highly praised by an Irish student who will be graduating this week.
Kristopher Humphreys, from Drogheda in Ireland decided to study Marine Biology after hearing positive comments about the course and the University.
"I'd heard great things about it, especially the Ocean Sciences School. So when I decided to study in this field, there wasn't much competition from other universities offering the same course.
Bangor is a set in a beautiful place, nestled between the sea and the mountains. For me, it's all here really - a large university surrounded by natural beauty, without the hustle and bustle of a large city.
Being able to study my degree in Marine Biology, whilst being so close to the sea itself, really sold it to me.
Kristopher, 24, who was brought up near the coast in Ireland, always wanted to pursue his interest in marine life.
"I grew up in quite a rural part of Ireland, but moved to the UK a few years before starting my degree here at Bangor.
I always had a great interest in biology which was complimented by my love for the sea – which I grew up very close to. So obviously when I was given the chance to study Marine Biology I instantly took it."
Photography is another of Kristopher's passions, and he has used this to his advantage by working as a photographer during his studies.
He said, "I've always worked while I was at university. I've progressed from just working behind the bar, to being a full time photographer in Bangor's favourite club – Academi!
I love my job and I really owe a lot to the staff at Academi - they've been great and helped me out in every way possible since I began working there. They're like my second family, except they pay me!
I've been able to broaden my horizons as a photographer solely because of the management at Academi giving me as many opportunities as they could.
Now that I have finished university, I plan to utilise the contacts and the professional network I have created to expand my photography work into a much more professional level. I already have some exciting opportunities coming up very soon!"
Kristopher admits that graduating will be a bittersweet experience.
"I've thoroughly enjoyed my time at Bangor University as a student, so I'll be sad to end my studies! But Bangor has made such a great impression on me, I think I'll hang around!"
Publication date: 14 July 2016