Royal visit for University Research Station
Princess Anne, the Princess Royal, was welcomed to the University by Professor John G Hughes, the University's Vice-Chancellor.HRH The Princess Royal visited Bangor University's Henfaes Research station, Abergwyngregyn today (Friday 27th, 2015).
Princess Anne, the Princess Royal, who was accompanied by Her Majesty's Lord Lieutenant for Gwynedd, Mr Edmund Seymour Bailey, received a showcase visit to the University's Research station to see some of the ground-breaking research carried out at the research facility.
Located at sea-level in Abergwyngregyn, Henfaes Research Station extends up into Snowdonia's Carneddau mountain range, enabling staff, students and other organisations to run a wide range of research projects on the varied terrain.
The Princess Royal was shown examples of the types of vital research conducted by the University's School of Environment, Natural Resources & Geography, who manage Henfaes Research Station.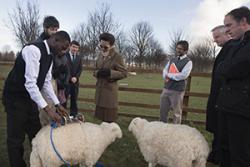 International post-graduate students Najeeb Iddris, Kevin Wells, Rebecca Barret and Yosuke Fukushima had opportunity to explain their research to the Princess Royal. The Princess Royal heard about ongoing work at Henfaes to determine how to increase productivity of upland sheep systems whilst still delivering other environmental benefits such as storing carbon and water. This work is being done as part of research funded by the Department for Environment, Food & Rural Affairs (Defra)'s "sustainable intensification programme". The Research Station is one of only five study farms in the UK that are part of the programme, and will be the centre at which upland issues are explored.
The Princess Royal also saw ponies registered with the 'Snowdon' name, which was formed by the University in 1918. Ponies are increasingly used as a grazing management tool for conservation purposes; therefore it is important to maintain breeds that are suited to particular areas.
The University has a track-record of developing new or improved crops for varying needs, whether it be marginal farmers in the Indian subcontinent or developing high-value crops for UK markets. One such project is responding to significant demand for food barley from companies aiming to exploit a niche market for whole grain products. 'Naked' barley has proven health benefits and Bangor University has bred UK-adapted varieties, which are currently being developed into new products.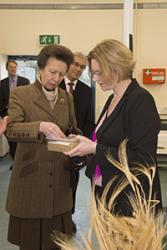 Dr Katherine Steele showed the Princess Royal naked barley seeds that are being developed to be grown as a niche crop by UK farmers.New materials are being developed from renewable resources, and these can include anything from building products to compostable packaging for supermarket fruit and vegetables. The Princess Royal learnt about an award-winning project to develop new products, such the biodegradable food-packaging which is derived from rye-grass, and the supply chains which support them.
The Princess Royal also heard about the University's crucial work in helping farmers restore damaged agricultural land after extreme climate events, such as the Somerset Levels flooding last winter. The research is also providing Defra with underpinning scientific information on which to base future policy.
Bangor Vice-Chancellor Professor John G Hughes said: "We were delighted that the Princes Royal took such a close interest in our environmental and agricultural research work. Our mission in this area is to provide a scientific basis for sustainable agriculture, forestry and the conservation of natural resources."
Professor Morag McDonald, Head of the School of Environment, Natural Resources & Geography said:
"As well as educating future generations of conservationists, environmental scientist, foresters and geographers, we aim to provide the information and evidence needed by farmers, policy-makers and others to ensure a more sustainable world. Over the years, Henfaes Research Station has contributed to important research which has been adopted in Wales and further afield."
Publication date: 26 February 2015