SENRGy's MSc Forestry students head to Tanzania!
During July and August 2012, Bangor University continued its long tradition of innovation in teaching tropical forestry when the first cohort of Commonwealth Scholarship Commission (CSC) funded, distance learning students joined together with full time SENRGy MSc students for a joint summer module in Tanzania's Usambara Mountains. The CSC scholars hail from all corners of the Commonwealth, from Botswana to Zambia and from Papua New Guinea to Guyana, where they are all completing Bangor University's long-established MSc in Forestry. Joining the nine scholars (pictured below) were fifteen other MSc students and five staff from Bangor's partner universities in the Erasmus Mundus Sustainable Tropical Forestry Programme: Copenhagen, Dresden, Montpellier and Padua.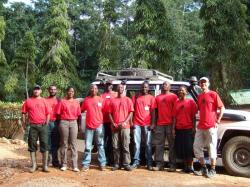 "It's been a fantastic experience for everyone", said Bangor University's Dr. Mark Rayment. "It's great to finally meet everyone face to face, especially when doing what we like doing best – fieldwork! The CSC scholars have benefitted hugely from their interaction with staff and students from our European partner universities, but so too have our EU-based students – they've had the opportunity to work together with students who live and breathe tropical forest air every day of their lives."
The Usambara Mountains, recognised globally as a biodiversity hotspot, form part of the Eastern Arc Mountains, which stretch through Tanzania and Kenya. Local people have drawn their livelihoods from the forests of this area for millennia, but as the population has grown, the capacity of forest lands to support livelihoods has become stretched. This pressure, combined with the potential effects of climate change and the push to conserve and enhance biodiversity in the region, means that managing forest resources in the 21st century requires an understanding socio-economics and resource management, in addition to the traditional disciplines of silviculture and forest inventory. To find out more about studying forestry in Bangor, go to http://www.bangor.ac.uk/senrgy/ and click through to undergraduate or postgraduate courses. Next year - Uganda!
Publication date: 16 August 2012