SENRGy's MSc Forestry students head to Uganda!
Following on from a very successful field course in Tanzania last summer (2012), July-August 2013 saw Bangor University's second cohort of Commonwealth Scholarship Commission (CSC) funded distance-learning MSc Forestry students attend this year's version in Uganda's Budongo Forest Reserve. Thirteen CSC scholars hailing from South Asia, Africa, and the Caribbean, were joined by the first student on our new MSc Tropical Forestry by distance learning programme, delivered in conjunction with Copenhagen University (picture below). In addition, seventeen other MSc students and seven staff from Bangor and its partner universities in the Erasmus Mundus Sustainable Tropical Forestry (SUTROFOR) Programme – Copenhagen, Dresden, Montpellier and Padua – took part in the two-week-long event.
Budongo Forest Reserve is located in the west of Uganda, close to the shores of Lake Albert. It lies at the northern extent of the Albertine Rift – a globally-important area for conservation given the rich diversity of its flora and fauna, with many species endemic to the region. The gazetted area of the reserve covers almost 800 km2, over half of which is closed forest and home to some 700 chimpanzees (Pan troglodytes schweinfurthii). Land around Budongo Forest is mostly under cultivation with an expanding human population placing ever-increasing pressures on the forest. Farming activities often encroach into the reserve and the forest is used by local people as a source of building poles, firewood and medicinal plants. Hunting for duiker and other bushmeat using snares frequently (and inadvertently) causes serious limb injuries to the chimpanzees. Although now seriously depleted, mahogany (Swietenia spp.) trees - which once made Budongo Forest so valuable in economic terms - continue to be harvested through illegal felling activities. Balancing efforts to manage and conserve the forest (especially in the face of climatic change) with the livelihood demands of an expanding population is an ongoing challenge.
Split into five working groups, the students undertook short research projects looking at local initiatives in forest conservation, livelihoods and governance. Data were collected by mapping, biophysical inventories, questionnaires, interviews and focus group discussions. A senior academic from Makerere University – the host institute in Uganda and long-standing partner of Bangor University – was allocated to each group (in addition to the European-based staff) and all proved to be invaluable sources of local knowledge and guidance. Notably, two of the Makerere staff involved – Prof. Jacob Agea and Dr Philip Nyeko – are Bangor alumni with PhD's in forestry from the University.
"Meeting our distance learning students face-to-face at last was very rewarding, as I have spent the last year communicating with them only via the internet and telephone", said James Brockington, Graduate Teaching Assistant at Bangor University. "Not only did they get to know one another but they also had the opportunity to share knowledge and ideas with staff and students based full-time in European Universities. Such a diverse mix of people from around the world with different academic and professional backgrounds created a rich learning experience for all involved.We had a lot of fun too!"
To find out more about studying forestry in Bangor, go to http://www.bangor.ac.uk/senrgy/ and click through to undergraduate, postgraduate, or distance-learning programmes.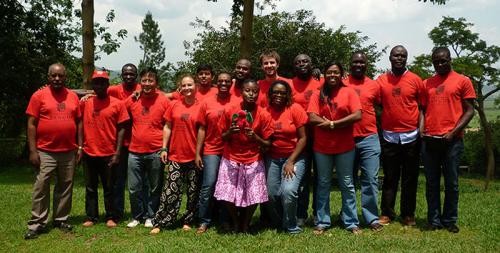 Publication date: 5 September 2013