SENRGy success at the 2017 Student-Led Teaching Awards and Course Rep of the Year Awards!
It was a successful night for SENRGy at the 2017 Bangor University Student-Led Teaching Awards and Course Rep of the Year Awards on April 28th.
Second Year student and Course Rep, Amy Greenland (BSc Applied Terrestrial and Marine Ecology), scooped the Student Choice Award, following nomination from her fellow-students in recognition of her efforts in representing them throughout the year. An honourable mention also goes to MEnvSci Environmental Science student Mandy Davidson, who was nominated for the Vice President's Award in recognition of her activities as a Course Rep within the school.
In the Student-Led Teaching Awards, SENRGy was the proud winner of the inaugural School of the Year Award. The nomination reflecting the School's friendly atmosphere, supportive staff and fieldtrips offered as part of its degrees. There was further SENRGy success with Dr Graham Bird winning the Teacher of the Year Award. Congratulations to all and also a special mention to SENRGy's other nominated staff: Sian Pierce (nominated once again for Outstanding Pastoral Support), Lynda Yorke (nominated for the Student Engagement Award), Rebecca Jones (nominated as Postgraduate Teacher of the Year) and Mike Hale (nominated for the Unsung Hero Award).
The Student-led Teaching Awards, organised by the Student Union are aimed at recognising outstanding contributions and excellence in teaching and learning at Bangor. Reflecting on the evening, SENRGy Head of School, Professor Morag McDonald said "it was a fantastic night for SENRGy and great to see our staff and students being nominated for awards. The successes are further evidence of the great atmosphere within the School, the hard work of staff and students and the constructive relationship SENRGy has with its students. It seems we'll have to get the School mantelpiece extended again!"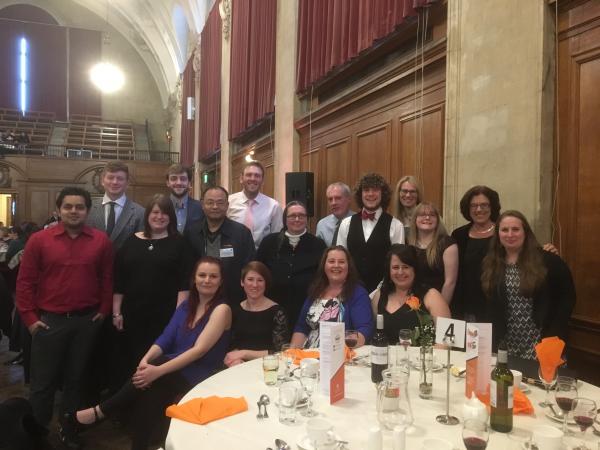 Publication date: 3 May 2017