Special visitor - Hector Rowe
Last week we hosted a very special visitor, Hector Rowe, age 6 from Anglesey. Hector attended the Festival of Discovery at Mona in May and sent in a PowerPoint presentation about how much he enjoyed the day. He was invited to the University in order to be presented with an award and a personalised lab coat in recognition for his interest in science.
We also treated Hector to a private tour of our Brambell building including the fantastic natural history museum.
Well done Hector, keep up the good work, we hope to see you very soon.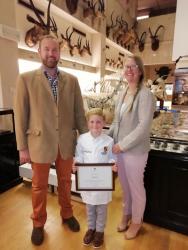 (Hector Rowe with his parents)
Publication date: 28 August 2019