Student project shows it is safe to eat roadside Blackberries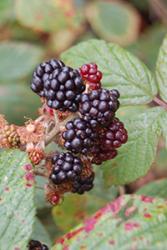 It is the time of year when many people pick fruit such as blackberries from roadsides. However, some fear that roadside soft fruits may contain high levels of heavy metals due to vehicle emissions.
A scientific study undertaken by student James Slack, of County Durham, as part of his degree in BSc Conservation & Forest Ecosystems at Bangor University, aimed to determine whether this was true. Wild blackberries growing near busy roads were collected from locations around Bangor and Anglesey, along with shop-bought (commercial) blackberries, for comparison.
Prof. Davey Jones, who supervised the project at School of Environment, Natural Resources and Geography, said: "James did a great job on this interesting project and he benefitted a lot from the experience". He added, "The take-home message of James' results is that, even in blackberries collected at busy roadsides, concentrations of heavy metals were found to be well below any dangerous intake levels for blackberry consumers and they are therefore considered to be of low risk to human health. Indeed they potentially offer a number of health benefits and of course are free!"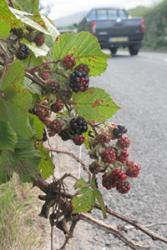 Blackberries growing on the roadside.James analysed the blackberries using a TXRF machine (a method using highly sensitive X-Rays to identify elements within a sample) and obtained interesting results. Concentrations of the metals lead, titanium and palladium were all slightly higher in blackberries from busy roadside locations than those from rural roadsides. Lead and titanium were believed to be a product of soil accumulation and both recent and historical roadside pollution from fossil fuel combustion. The palladium detected may well be the product of emissions from catalytic converters, as usage of the metal in converters has steadily increased in recent years. However, analysis of the commercial blackberries also revealed significantly higher levels of lead and copper compared to blackberries from rural roadsides, offering an insight into potential production parameters.
Publication date: 9 September 2013