Study reveals long time scale of recovery for marine sea fans and other species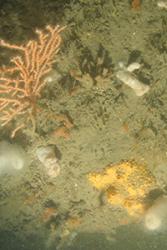 Sponge and pink sea fan on the seabedPink seafans, Ross corals and white sea squirts could take up to 20 years to recover after an area of the seabed was closed to scallop dredging, according to predictions by a team of scientists at Bangor University.
The Lyme Bay Special Area of Conservation is notable for its limestone reefs and the pink seafans and other fauna that characterise it. Lyme Bay was closed to scallop dredging in 2008 after an initial a one year voluntary closure to scallop dredging was put in place during 2006 – 2007. The Bangor University scientists sampled Lyme Bay at the time of the change-over from a voluntary to a full exclusion of scallop dredging. They resampled the same sites in 2017 using the same sampling techniques.
Professor Michel Kaiser, of the School of Ocean Sciences who led the study said:
'We have had little insight into the speed of recovery of longer-lived and sensitive reef organisms that have been exposed to trawl and dredge fishing which has prevented us from being able to predict how much fishing, if any, these organisms can withstand'.
He added 'This study shows that for areas of the seabed that are suitable for seafans to persist, fishing with trawls and dredges is incompatible'.
However, other areas of the seabed are more resilient to trawling and dredging where other species such as king scallops and the soft coral that is known as 'dead men's fingers' recovered in less than 3 to 5 years.
Professor Kaiser explained that 'The time-scale of recovery appears to be directly linked to the reproductive strategies shown by the different species in Lyme Bay which will provide an invaluable indicator of habitat sensitivity to fishing and other activities in other conservation areas'.
Publication date: 26 January 2018