The return of Draig Beats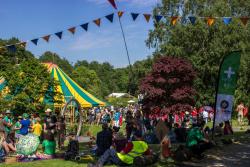 Friends organise festival to raise money to support brain-injured lecturer, and the Botanic Garden she loves.
On the 8th June, Bangor University's botanic garden at Treborth will be filled with fantastic music across three stages, revellers enjoying vegetarian food, children exploring the ancient woodlands and meadows, families learning drumming and dance together, and so much more. All of this is part of Draig Beats, a family friendly festival at Treborth Botanic Garden from 10:00am to 9:00pm. The event is organised by friends and colleagues of Dr Sophie Williams, a former Bangor University lecturer who contracted Japanese encephalitis while on fieldwork in China in 2015.
Draig Beats ran for the first time last year and raised more than £15,000 for the Sophie Williams Trust-the fund set up to pay for the adaptations needed for Sophie to return to her home near Tregarth after nearly 4 years in residential care.
Julia Jones, professor of conservation at Bangor University said:
"Sophie has always had a talent for bringing people together. As a student at Bangor University, she was involved in raising money and campaigning to support the botanic gardens. When she fulfilled her d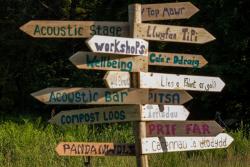 ream and became a lecturer at the University, she was deeply involved in the garden every day. It is so fitting that Sophie's creative and talented friends are running their festival, Draig Beats, at Treborth. This time it is raising money both for the Sophie Williams Trust and Treborth Botanic Gardens.
Sophie partner Dr Robert Annewandter said:
"The success of last year's Draig Beats left us overwhelmed. The atmosphere was brilliant and the money raised is so important as it will help Sophie finally to move home. Sophie greatly appreciates the incredible support from her friends, colleagues and the wider community."
This year's festival is going to be even bigger and better than last year. Natalie Chivers, the curator of the botanic garden said:
"We have such a diverse range of acts from the Threnody community choir, to well known world music groups Drymbago and Baka Beyond. There will be lots for everyone with a range of workshops and a wellbeing area. A community circus and the forest school Wild Elements will be putting on activities for children. The garden is looking lovely so do come and join us. See you there!"
The event includes Live bands and DJs across three music stages, Syrcas Cimera, Workshops, a Wellbeing Area, the locally-based Wild Elements Forest School, tea and cake stalls, home cooked vegetarian food, a fully licensed bar, and much more!
Children under 12 free. Tickets £25 on the door of £20 in advance. Unfortunately, dogs can't be accommodated at the festival. Please note there is limited parking on site (blue badge holders only). We are operating a park and ride form the Brambell Building on Deniol Road and the Bangor Football Club.
For more information and tickets please see: http://draigbeats.wales/
Publication date: 31 May 2019