University opens farm gate at Henfaes Research Facility Abergwyngregyn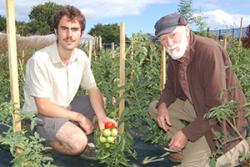 Trials of outdoor tomatoes at Henfaes last summer.Wouldn't it be good if we could grow our own tomatoes outdoors? And can some of the compost that councils produce be used to grow potatoes? Come and see how daffodils are being used to treat Alzhimer's Disease and find out why bees don't always sting. Learn how scientists and bakers are working together to develop a new 'functional food' using a highly nutritious and tasty strain of barley.
These and other questions will be answered during a visit to Bangor University's agricultural Research station at Henfaes in Abergwyngregyn between 2.00-4.30 on Thursday 12 June. This is one of the University's activities for Universities Week 9-15 June, during which universities across the UK are raising awareness of the ways in which university research impacts on all our lives.
The School of Environment, Natural Resources & Geography and partners at Henfaes Research Station at Abergwyngregyn are opening the 'farm gate' to visitors for the afternoon. The Research station has land ranging from sea level up to the Carneddau and so provides an ideal spot to conduct research relevant to Welsh agriculture and farming and to the Welsh environment.
Professor M.A. McDonald. Head of the School of Environment, Natural Resources & Geography said: "I think people would be surprised at the wide variety of research undertaken at the Henfaes research Station- both because of its breadth and because it really has been making an impact on Welsh agriculture over the decades.
We're always pleased to work with the agricultural community in wales and welcome the opportunity of inviting members of the public to come and visit the Research station."
Over the years the Station has contributed to important research demonstrating the potential positive impacts of farm diversification by mixing agriculture with woodland. Agro-forestry can provide animal shelter, reduce fertiliser use whilst maintaining fodder quality, increase water infiltration alleviating flooding potential, and sequester carbon in deep soil layers.
Contact Henfaes Research Station on 01248 382281 e mail alison.evans @bangor.ac.uk for further details.
The Open afternoon includes short accessible tours, indoor exhibitions and light refreshments.
The event item for this has an attached location map.
Publication date: 16 May 2014