Zambian student ambassador celebrates graduation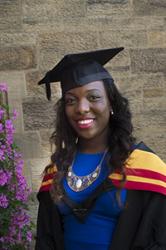 Taza MulengaAn international student from Zambia is celebrating graduating from Bangor University with a Master of Environmental Management degree.
Taza Mulenga from Copperbelt Province attended Lechwe College in Kitwe, before deciding to study at Bangor University in the UK.
Taza explained, "I did my IGCSEs at Simba International School and later on went to do my A levels at Lechwe College. I have always had an interest in environmental related subjects so I knew this would be the field I would be interested in pursuing after university.
"The reason I came to Bangor was because as an international student I wanted to be at a university that was highly accredited in my field of interest and provided me with practical skills and field work that I would not get if I studied elsewhere. I wanted to study environmental management because I was interested in the subject. I also liked that it provided a good general knowledge of all the sciences, economics and law without restricting you to one discipline."
During her time at university, Taza was an international student ambassador, helping others to adjust to studying and living in Bangor. She said,
"I worked as an international student ambassador for two years and I enjoyed every bit of it because I got to interact with people from different cultures and I got to be part of a support system for students coming into the university.
"Studying at Bangor has made me more appreciative about life, trying out new things and to be excited about the future.
"It has not always been easy studying this degree especially being in a foreign country, being away from home, assignments getting more difficult, life not going as planned, but it has kept me going and still does and I think having a positive attitude will help me in the future."
Publication date: 15 July 2015