Student Profile: Harriet Jaeger – BA in Philosophy and Religion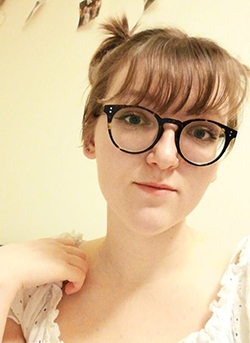 Harriet Jaeger
Why did you choose Bangor?
I chose Bangor University because it not only seemed quite quaint at Open Days, but also it has great international links and Bangor itself is a lovely location. Beach days and hiking are available to you as well as plenty of pubs and there is a lot of available housing. Additionally Bangor operates with a high standard of teaching and my lecturers have expertise in a variety of topics.
The course
The best thing about my course so far is that I have had the opportunity to study a variety of topics. All of the lecturers have offered plenty of support so I don't have to feel put off by a module if I know nothing about it, because its all taught in an accessible way and help can always be provided.
Clubs and societies
I am the founder of the Conspiracy Society, which is a very casual place where we just get together and discuss various conspiracy theories, and mostly how ridiculous they are or if they are plausible.
The location
I like that Bangor has that Welsh seaside town feel where everything is a little bit grey but still charming. The coast is so near and when it is sunny, the pier and the beaches are so lovely. I also like Bangor town because it's not too big and in Bangor you're never really more than a 20-minute walk away from anywhere.