LGBTQ Network
The Bangor University staff and post-graduate LGBTQ Network, was established in 2018. It's open to anyone who works at Bangor University and any postgraduate students who identify as lesbian, gay, bi, trans, queer or questioning, plus friends and allies of our community.
Our Purpose
The Bangor LGBTQ Network was set up to provide a forum for networking and means of support, to offer the opportunity for colleagues from all areas of the University to inform and collaborate on LGBTQ action and to increase the visibility of LGBTQ issues in the workplace. Any staff or post-graduate students are welcome to become involved in the running of the Network or to attend the informal catch up meetings.
For more information about the Network please contact the network lead, Marcel Clusa or Nia Blackwell in HR at lgbtq@bangor.ac.uk
How the University Supports Us
The University assists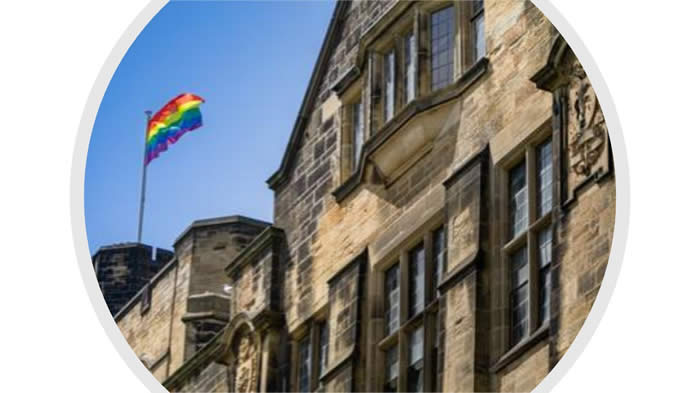 and facilitates the Network, providing resources, rooms to meet etc. All staff and students are protected by the University's Dignity at Work and Study Policy.
Where and When?
The Bangor LGBTQ+ Network meets online monthly via Teams, please email us at lgbtq@bangor.ac.uk for details of the next meeting.
We also meet informally for our LGBTQ+ Panad (panad is Welsh for cuppa) on the first Thursday of every month from 15:30 to 16:00 in Cegin, Pontio, effective from 05/10/2023. LGBTQ+ Panad is open to everyone and there's no need to register or be part of the Network to attend.
Celebrating Diversity at Bangor University
The LGBTQ+ Network for staff and students has organised a few events in this past year to celebrate the contribution of our staff and students to the Community.
You can now watch some of these events online in the links below:
This page is for the staff and post-graduate students' LGBTQ Network. If you are looking for the student LGBTQ+ Society please follow the links below: