BPP Certificate of Commercial Awareness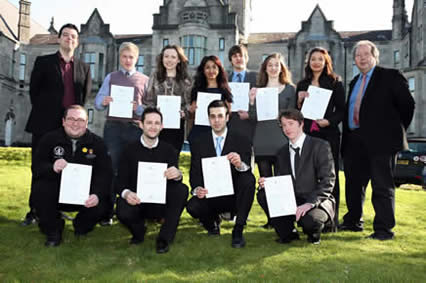 In recent years, Bangor Students' Law Society has been able to offer Bangor students the chance to obtain the career-enhancing BPP Certificate of Commercial Awareness for free, thanks to BPP's continued support and sponsorship of the Society.
The three-day course, held at Bangor and Manchester and offered free by BPP to all Bangor LLB undergraduates, highlights the need for Law students to be commercially minded and to have business awareness. Students are given a taster as to what to expect on an LPC course as well as an opportunity to hear from top legal professionals what makes a training contract application stand out.
Law firms assess commercial awareness at each stage of the application process - application form, assessment centre and interview – and this programme enables students to tackle the sort of scenarios they may face.

Here is what some previous attendees had to say about the experience:

"I found the course extremely useful for a career in Law. It gave me a good insight into the necessary requirements to gain work as a lawyer, as well as tips for the job application process, which is getting ever more difficult"
– Steffan Cooling, 3rd Year

"The experience was certainly beneficial. It will complement what I'm learning in my course and has also given me tips on how to deal with people. I worked as a manager in Customer Service for 4 years before attending Bangor Law School. I chose to pursue Law as I felt it would be extremely useful in both business and life"
– Ali Nezam, 1st Year

"Attending the BPP course in Commercial Awareness was very informative. It highlighted the skills necessary to succeed in job interviews. It was also a great opportunity to network with professionals from the legal industry"
– Aaron Bridge, 2nd Year