International Partnerships
Bangor Law School works continuously to develop partnership arrangements with a number of leading international universities and institutions.
These partnerships enable us to foster a collaborative relationship with other institutions and to exchange knowledge with legal experts from across the world, thereby enhancing the learning experience of our students.
To date, we have established partnerships in:
Bangladesh
London College of Legal Studies, Dhaka
China
Europe
As part of the European Commission's Erasmus programme, we have partnerships with the following European institutions:
Undergraduates enrolled on one of the LLB Law / Modern Languages schemes will spend the third year of their studies at one of our partnering institutions through the Erasmus programme.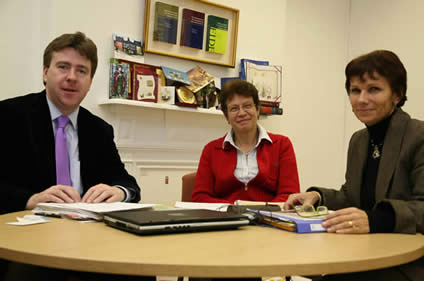 Professor Dermot Cahill, Head of Bangor Law School, with Professor Sylvaine Peruzzetto, Vice President of Université Toulouse I, and Madame Claudine Chambert, Director of International Mobility Office at Université Toulouse I, discussing partnership arrangements between both Law Schools.
India
Malaysia
USA
Vietnam