'Master of the Moot' Joshua scoops Oxford University Press prize
A Bangor Law graduate has been given a boost ahead of his Masters studies after winning the Oxford University Press Law Prize.
Joshua Nelson, who held the role of 'Master of the Moot' during his final year on the LLB Law with French degree, was awarded the prize in recognition of his tireless commitment to mooting and advocacy activities within the Law School – particularly his coaching efforts, the organising of internal moots and participation in national competitions.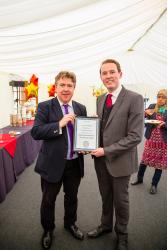 Joshua Nelson is awarded the Oxford University Press Law Prize by Professor Dermot Cahill, Head of Bangor Law School
Joshua was also commended for supporting the School during its Open Days and mentoring students in the years below him.
The prize, awarded by Bangor Law School in collaboration with Oxford University Press, rewards the recipient with £150 worth of any OUP books.
This will come in particularly useful for Joshua, 22, as he prepares to return to Bangor in September to undertake an LLM in International Intellectual Property Law.
"I'd like to thank Professor Dermot Cahill, Stephen Clear and the rest of the Law School for the awarding of this prestigious prize", said Joshua, from Colwyn Bay. "I'm honoured they nominated me for the prize and I'm incredibly grateful and thankful for the support they've given me throughout this year, which enabled me to provide the service I did this past year as Master of the Moot, especially since it was my final year of my undergraduate degree.
"I'm incredibly grateful that the prize has gifted me a book certificate – that will aid me greatly when it comes to buying new textbooks in September.
"I look forward to my return to Bangor in September for my Masters studies and to continue my work as President of the Legal Advocacy Society. I hope to improve upon last year by boosting Bangor's repertoire in the world of Mooting, and I endeavour to continue to help those students who are interested in mooting, current and new."
Publication date: 8 August 2016