First-ever 'Legal World Series' a Huge Success
During the second semester of the academic year 2014-15, a team of law students launched the Legal World Series for the first time. Overseen by Programme Co-Directors Stephen Clear and Dr Marie Parker, the Legal World Series sees students voluntarily organise law-themed conferences and social events pertaining to different continents and regions. The Series is entirely student-led, with students delivering the presentations and choosing the themed social events that follow - the only stipulations are that the sessions must be open to all, inform others as to different legal systems, and promote cultural understanding.
A team of seven internationally-minded undergraduates were appointed to lead the themed sessions: Miriam Mbah (Student Coordinator for Africa); Nigel Hughes (Student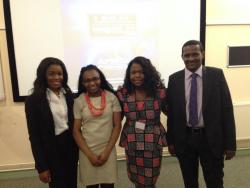 Africa DayCoordinator for the United Kingdom); Laura Jager (Student Coordinator for Europe and Law Society International Student Representative 2013-2014); Mohammed Khoransanee (Student Coordinator for the Middle East and Law Society International Student Representative 2012-2013); William Carlsen (Student Coordinator for the Americas and Canada); Sarah Langham (Student Coordinator for Australia and the Oceania); and Kamrul Hassan (Student Coordinator for Asia).
Miriam launched the series back in February 2014, with her Africa event. Students from Nigeria, Sudan and Zambia delivered a variety of presentations on topics such as the Legal System in Sudan, Slavery Compensation, the Nigeria Legal Aid Council and Zambia Labour Laws. The social event that followed, A Taste of Africa, was co-sponsored by the Student Union's Afro-Caribbean Society with law students sampling a variety of Africa delicacies and learning some traditional African dance moves.
Nigel's United Kingdom event took place at the beginning of March 2014 and was supported by the Student Law Society, Street Law and Legal Advocacy groups. Timely and topical debates were had with the presentations focusing on such issues as the Scottish referendum, Welsh independence and the European Union's relationship with the UK Parliament. Bangor University's Cooking Society supported the event by baking a variety of tea cakes and scones.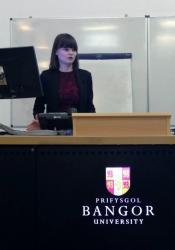 UK Day: Bronwen Hughes asks "is Independence the Future for Wales?"
These events were promptly followed a week later with Laura's Europe session, which saw students from Romania, France, Germany and Ireland present legal issues pertaining to poverty immigration and criminal law. The Europe event was followed by a beginner's salsa dance class, delivered by Bangor University's Dance Club.
Mohammed continued the programme with his Middle East event featuring students from Pakistan and Kurdistan discussing such topics as lawyers' movements and legal history. This was followed by a Movie Night showing of Jinnah, a politico-legal blockbuster.
Towards the end of March, William delivered his Americas and Canada event. Presentations were delivered by students from the USA, Canada and Sri Lanka on as far ranging topics as environmental law and oil mining, the USA gun control debate and America's war on drugs. The session also included a special guest appearance from musical artist Snoop Dog's attorney, Mr William Levin, who discussed failures of the American justice system. The session concluded with an American/Mexican themed social event.
The following week saw Sarah lead the Australia and the Oceania programme. Presentations included legal discussions as to the Great Barrier Reef, Australia's smuggled migrants, legal complications with insider trading, and indigenous peoples' rights. This was followed by a themed pub quiz, which was delivered in collaboration with the Student Law Society.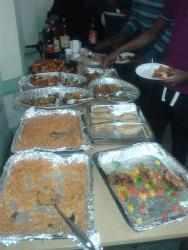 Students get a taste of Africa at the Africa Day
The 2014 Series concluded in May with Kamrul's Asia event. Co-sponsored by Bangor University's Confucius Institute, participants included students from Bangladesh, China, India and Pakistan. Presentations were delivered on the growing popularity of the South Asian Association for Regional Cooperation, as well as opportunities to study and travel to China (through the Confucius Summer Schools). Meng Yu from the Confucius Institute also gave an introduction to the Chinese legal system. The programme finished with a Chinese tea networking event.
"Across the series we delivered 15.5 hours of extra-circular material to 138 students from 25 different countries, with 34 of those students delivering their own presentations", commented Stephen Clear. "The programme has not only promoted internationalisation within the Law School, and highlighted the benefits of peer-to-peer learning, but has also demonstrated how creative and enthusiastic our students are. It was fantastic to see such a great mix of home and international students at each event.
He added: "With Bangor University's Student Law Society entirely taking over the programme next year, we are looking forward to seeing the activities go from strength to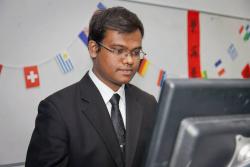 Kamrul Hassan presents at Asia Day strength – a special thanks to everyone involved!"
Visit the Legal World Series Facebook page to find out more.
Publication date: 2 June 2014