Professor Suzannah Linton teaches at Seoul National University in South Korea
Bangor Law School's Chair of International Law and director of the Bangor Centre for International Law, Professor Suzannah Linton, was invited by Seoul National University to teach on their inaugural postgraduate programme on Human Rights and Asia, held in Seoul in January 2014.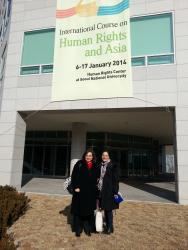 Professor Joo-Young Lee of Seoul National University, with Professor Linton
The intensive programme, organised by Professor Chinsung Chung and Professor Joo-Young Lee of the Seoul National University's Human Rights Centre, drew mature students from across the world, including South Korea, Nepal, Bangladesh, Mongolia, Italy, Germany, the USA, Cambodia and the Philippines. Leading academics and international lawyers took part in the programme, including Professor Vitit Muntarbhorn (Professor of Law at Chulalongkorn University, Bangkok; formerly UN Special Rapporteur on the Sale of Children; UN Special Rapporteur on the human rights situation in the Democratic People's Republic of Korea (North Korea); Chairperson of the UN Commission of Inquiry on the Ivory Coast and Commissioner of the UN Commission of Inquiry on Syria), Professor Dong-Choon Kim (SungKongHoe University, Seoul; formerly standing commissioner of the Truth and Reconciliation Commission, Republic of Korea) and Professor Virginia Dandan (the United Nations' independent expert on human rights and international solidarity and former Chairperson of the UN Committee on Economic, Social and Cultural Rights).
Professor Linton taught on Rule of Law and Transformations in Asia, and also on Dealing with the Legacies of the Past, with focus on Cambodia.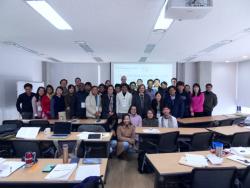 Students on the programme with Professor Linton
During her visit to Seoul, Professor Linton was also invited to address a public meeting organised by the Truth and Justice Forum. Her presentation discussed issues of justice, truth and reconciliation following armed conflict and repression, and her discussions with the participants delved deeply in these issues in the Korean context.
Publication date: 5 February 2014