Success for Bangor students at international law competition
Four Bangor University students are celebrating a sensational performance at an international law competition.
Ayaz Saboor, Bianca Rowson, Miriam Mbah and Catherine-Anne Higham were one of 90 teams from universities worldwide to compete at the KK Luthra Memorial Moot held in Delhi, India, last month.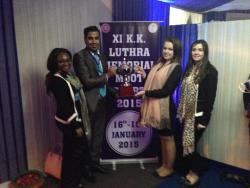 L-R: Miriam Mbah, Ayaz Saboor, Catherine Higham and Bianca Rowson at the XI Luthra Opening Ceremony events at the University of Delhi.
Team Bangor came first of all UK law schools – and top 20 overall – in the written memorials round, and ranked as one of the top two British teams in the oral stages.
Their success is testament to the four months they spent preparing for the three-day contest, in which competitors were required to conduct mock trials based on a fictitious legal case.
20-year-old Miriam Mbah, a final year Law with Criminology student from Wiltshire, described the experience as "the best thing that I've ever done.
"This experience will stay with me forever. The preparations – from staying up until 4am trying to finish the memorials to actually mooting in front of the judges – have made me a better student, person and lawyer".
Law with Business Studies student Ayaz Saboor described the experience as a "rollercoaster". "Preparation can take days, weeks, months and countless sleepless nights, but nothing can prepare one for the experience", commented the 21-year-old from Wigan.
Mooting Co-ordinator Stephen Clear, who co-coached the team alongside Dr Yvonne McDermott Rees and accompanied them to India, paid tribute to the students' performance. "Our students did exceptionally well in reaching the top 33 universities from across the globe, and number one in the United Kingdom. This is a particularly noteworthy achievement given that the competition included participants from universities that run Bar courses and George Washington University, USA. The team not only showcased their ability to respond to intense levels of questioning under significant time constraints, but also excelled in their ability to adjust to a foreign jurisdiction's legal customs and new courtroom etiquette rules".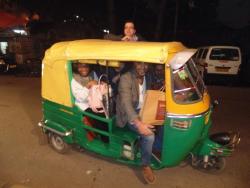 The team enjoying a tuk-tuk ride around Delhi
The KK Luthra Moot is the latest in a long line of mooting successes for Bangor Law School, with Bangor students having competed in several UK and Welsh-medium tournaments over the years, as well as the prestigious Telders International Law Moot Court three years running.
"Participating in the KK Luthra Moot in India is just the latest step in our upward progress", commented Professor Dermot Cahill, Head of Bangor Law School. "Bangor mooters are now respected in international competitions, demonstrating how our purpose built courtroom, as well our students' internships in leading law firms and barristers chambers, equip our students to show their skills as top courtroom advocates. It's no wonder we are so high up on the UK law student employability rankings."
He added: "Mooting in an international mock trial competition is a fantastic experience for Law students. In international moots, students make new friends, engage with new challenges, and generally experience the thrill of international competition. We have come a long way since I introduced the European Moot Competition to Bangor a few years ago, and since that time our students have taken up the challenge and are now famed across the land for their articulate, subtle argumentation, deftness of pleadings presentation, and mastery of legal precedents."
The team wish to thank Ali Haque (third year law student) and Tom Crofts and Keira Hand, (second year law students), for their research contributions.
Publication date: 9 February 2015