Dr Tara Smith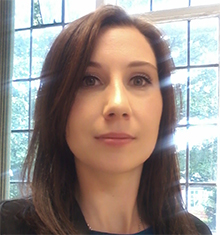 Name

Dr Tara Smith

Position

Lecturer in Law

Email

Phone

+44(0) 1248 388634

Location

Room 010 (Ground Floor), Athrolys
Overview
Dr. Tara Smith is Director of the Bangor Centre for International Law and Lecturer in Law at Bangor University's School of Law. Dr. Smith explores key questions of international law and policy connecting the global challenges of climate change, armed conflict, human rights and transitional justice. Dr. Smith joined Bangor Law School from the Law Reform Commission of Ireland, where she was working on a project entitled 'Corporate Offences and Regulatory Enforcement', proposing reforms to Irish law arising from the legacies of the banking and economic crisis in Ireland in 2008. Prior to that, Dr. Smith was a Policy Advisor with the Irish Department of Foreign Affairs and Trade, where she worked in the Environment and Climate Change Unit of Ireland's overseas development agency, Irish Aid. During this time Dr. Smith was a member of the Irish Delegation to the United Nations Framework Convention on Climate Change as well as a member of the EU Expert Group on Adaptation, where she contributed to the development of EU policy on climate change adaptation and loss and damage in the context of the international climate negotiations. Dr. Smith has also previously contributed significant research to the post-conflict and transitional justice work of the International Institute for Higher Studies in Criminal Sciences (ISISC) in Siracusa, Italy. Dr. Smith began her academic career at the Irish Centre for Human Rights, in the National University of Ireland Galway where she co-ordinated and lectured on the first undergraduate human rights degree programme in Ireland.
Dr. Smith's research interests lie in the field of international law and her research focuses on cross-cutting issues like the protection of the environment in armed conflict, the prosecution of environment-related crimes under international criminal law, and human rights in the context of climate change.
Qualifications
Postgraduate
PhD, 2013. The Protection of the Environment in Non-International Armed Conflict, National University of Ireland Galway
LL.M in International Human Rights Law, 2007. National University of Ireland Galway
Undergraduate
Bachelor of Civil Law, 2006. University College Dublin
Professional
Diplôme de Français Professionnel Juridique, 2015. Chambre de Commerce et d'Industrie de Paris / Law Society of Ireland
Attorney at Law, 2009. New York State Bar
Teaching
2016/17
LL.M (Law) (programme director)
SXL 2147/3147 International Environmental Law (module leader)
SXL 4052 International Climate Change Law and Policy (module leader)
SXL 4042 International Human Rights Law (module leader)
SXL 3113 Undergraduate Dissertation (supervisor)
SXL 4300 Postgraduate Dissertation (supervisor)
Previous taught modules
SXL 4045 International Humanitarian Law
SXL 4040 Public International Law
SXL 4047 Transitional Justice
SXL 4009 Legal Research Methods
SXL 3110 International Law of Human Rights (co-taught with Dr. Yvonne McDermott-Rees)
SXL 1112/2212 Contract Law
Other
International Human Rights Summer School, Bangor
Erasmus Teaching Exchange, Université Toulouse 1 Capitole
Administrative Responsibilities
Director of the Bangor Centre for International Law
Chair of School's Postgraduate Unfair Practice Committee
Member of School's Teaching and Learning Committee
Member of School's Employability Committee (with responsibility for employability in the human rights and NGO sector)
Member of School's Mooting Committee
Internal Examiner for PhD & MPhil Vivas
Coordinator of Monthly International Law Discussion Group
Coordinator of International Law Research Group
Personal Tutor
Areas of Research Expertise
Public International Law
International Human Rights Law
International Humanitarian Law
Post-Conflict and Transitional Justice
International Climate Change Law and Policy
International Environmental Law
Dr. Smith welcomes applications and proposals from students in these areas.
Selected Papers and Publications
'Why the International Criminal Court is right to focus on the environment' The Conversation, September 2016
'Is Geoengineering the Key to the Paris Agreements' Success?', Paper presented at the 2016 Conference of the Society of Legal Scholars, Oxford University, September 2016
'The Human Right to Enjoy the Benefits of Scientific Progress in the Context of Geoengineering', Paper presented at the 1st World Environmental Law Congress, Rio de Janeiro, April 2016
'The Necessity Defence - Should Climate Activists be allowed to Break the Law?' The Conversation, January 2016
'Creating a Framework for the Prosecution of Environmental Crimes' in Schabas, McDermott and Hayes (eds.), The Ashgate Companion to International Criminal Law: Critical Perspectives, pp.45-62 (Ashgate Publishers, 2013)
'Criminal Accountability or Civil Liability: Which Approach Most Effectively Redresses the Negative Environmental Consequences of Armed Conflict' in Quenivet and Shah-Davis (eds.), International Law and Armed Conflict: Challenges in the 21st Century, pp 95-114 (T.M.C. Asser Press: 2010)
Case Report on 'Bosanski Šamac, Prosecutor v Simić (Blagoje) and ors, Decision on Application for Leave to Appeal, Case No IT-95-9, ICL 458 (ICTY 2000), 19th April 2000, Appeals Chamber (ICTY)', in Oxford Reports on International Law (2010)
Case Report on 'Prosecutor v Kvočka (Miroslav) and ors, Decision on motion for provisional release of Miroslav Kvočka, Case no IT-98-30/1-PT, ICL 324 (ICTY 2000), 2nd February 2000, Trial Chamber I (ICTY)', in Oxford Reports on International Law (2010)
Case Report on 'Omarska, Keraterm and Trnopolje Camps, Prosecutor v Kvočka (Miroslav) and ors, Decision on defence preliminary motions on the form of the indictment, Case no IT-98-30/1-PT, ICL 322 (ICTY 1999), 12th April 1999, Trial Chamber I (ICTY)', in Oxford Reports on International Law (2010)
'Human Rights and the Natural and Cultural Environment: A New Frontier of Protection?' co-authored with Darcy, Powderly, McLoughlin, Winters, and Ní Ealaí, (Irish Centre for Human Rights National University of Ireland: 2009)
'The Work of the International Criminal Court in 2008' co-authored with Clemens Muller, 51 German Yearbook of International Law, pp. 593 – 639 (2008)