Dr Wei Shi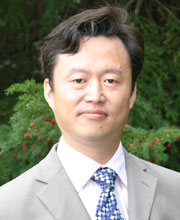 Name

Dr Wei Shi

Position

Reader in Law

Email

Phone

01248 38 2518

Location

Athrolys, College Road
Wei Shi was educated in China and the United Kingdom. Having spent five years working as a judge in a court in Shandong Provence in the late 1980s following the completion of his undergraduate studies, Wei returned to academia and obtained his Masters degree in law in Renmin University of China, Beijing. He then took up a tenured lectureship at the Law School of Shandong University, and taught there until 2000. Under the auspice of the EU-China Higher Education Cooperation Programme, he worked as a Visiting Fellow at the Lauterpacht Centre for International Law from 2000 to 2001 before embarking on his Ph.D. in International Law at St John's College, University of Cambridge. His Ph.D. thesis in Cambridge addresses the multifaceted issues of intellectual property rights enforcement in the world trading system from EU-China perspective.
Wei joined the School of Law as Lecturer in Law in September 2007, and currently holds a Readership, where he teaches Private International Law, the World Trade Law and the International Commercial Arbitration.
Wei is specialised in the area of international trade law, international intellectual property law, intellectual property and development, and private international law in a commercial context. His work has appeared in the leading international peer reviewed journals, such as American Business Law Journal, University of Pennsylvania Journal of International Law, Wisconsin International Law Journal and North Carolina Journal of International Law & Commercial Regulation. His recent work also includes a book published by Springer (Berlin/Heidelberg). His work has been cited by some leading law journals such as European Intellectual Property Review, UC Davis Law Review, Chicago Journal of International Law, and Columbia Journal of Asian Law. He serves as a regular referee for such publishers and journals as Routledge and Asian Journal of Communications. Wei welcomes proposals of prospective research students with interests falling within the above areas.
A major strategic priority for Bangor Law School is the undertaking of research into the practical difficulties faced by Societies when attempts are made to introduce external norms into domestic legal systems, ostensibly to bring about reform but often with unintended or unforeseen consequences. This work in relation to the interaction of legal systems of different national origin, includes Wei's work on the legal transplantation of western norms into traditional legal systems, particularly in China. Wei's work started in the area of intellectual property, exploring the legal transplantation of western IP norms into traditional legal systems, and has now expanded to work with Professor Dermot Cahill to explore the area of public procurement norm transfer, facilitating the building of an international collaboration between Bangor Law School and the China University of Political Science and Law (Beijing, China's largest Law School), culminating in the creation of a Confucius Institute at Bangor in 2012. Wei and and Professor Cahill will work with Chinese colleagues to assess feasibility of western procurement Transparency norms' implantation into China's attempt to reform procurement law and structures in China.
Wei serves as the Director of the Confucius Institute at Bangor University, the first Confucius Institute in the world with distinctive Legal flavour. He is also a Fellow of Cambridge Overseas Society, Member of the International Law Association (British Branch), Member of the Society of Legal Scholars, and Council Member of the Chinese Society of Private International Law.
Wei Shi's representative publications include:
Books
W. Shi, Intellectual Property in the Global Trading System: EU-China Perspective (Springer, Berlin/Heidelberg, 2008)
Journal Articles
W. Shi, "Globalization and Indigenization: Legal Transplant of a Universal TRIPs Regime In a Multicultural World," 47(3) American Business Law Journal 455-507 (2010)

W. Shi, "Incurable or Remediable? Clues to Undoing the Gordian Knot Tied by Intellectual Property Enforcement in China," 30(2) University of Pennsylvania Journal of International Law 541-584 (2008)

W. Shi, "The Paradox of Confucian Determinism: Tracking the Root Causes of Intellectual Property Rights Problem in China," 7(3) John Marshall Review of Intellectual Property Law 454-468 (2008)

W. Shi and R. Weatherley, "Harmony or Coercion: China-EU Trade Dispute Involving Intellectual Property Enforcement," 25(3) Wisconsin International Law Journal 439-490 (2007)

W. Shi, "Cultural Perplexity in Intellectual Property: Is Stealing a Book an Elegant Offense?" 32 (1) North Carolina Journal of International Law & Commercial Regulation 1-48 (2006)

W. Shi, "Principles of Imputation of Product Liability: A Comparative Study between China and the U.S." (in Chinese), 2 Shandong University Journal of Social Science 99-108 (2000)

W. Shi, "Towards Applicable Law of Intellectual Property" (in Chinese),1 Shandong University Journal of Social Science 33-36 (2000)

W. Shi, "Some Reflections on the Conflict of Laws in Intellectual Property" (in Chinese),5 Modern Law Science (Law Review of Southwest University of Political Science & Law)74-78 (1999)

W. Shi, "The Impact of TRIPs on the Protection of Intellectual Property Rights in China" (in Chinese), Chinese Yearbook of Private International & Comparative Law 53-64 (1998)

W. Shi, "Conflict of Laws between Mainland China and Hong Kong after 1997" (in Chinese), 5 Studies in Law and Market Economy (Law Review of Central South University of Economics & Law) 1-8 (1997)

S. Zhang & W. Shi, "Research Review on Private International Law in China in 1995" (in Chinese), 34 (1) Jurists (Renmin University Law Review) 83-85 (1996)
Book Reviews
W. Shi, "Review of Private International Law and the Internet by Dan Jerker B Svantesson," 13(2) Communications Law, Tottel Publishing 64-65 (2008)

W. Shi, "Review of Intellectual Property and TRIPS Compliance in China: Chinese and European Perspectives by Paul Torremans et al," 13(4) Communications Law , Tottel Publishing 144-45 (2008)
Some of Dr Shi's publications are available at SSRN: