Bangor University seals reputation for wetland science excellence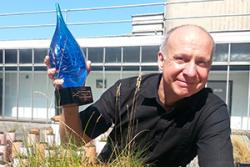 Prof Chris Freeman with his latest Award.International award and groundbreaking new course confirms Bangor University as world leader in wetland science.
One of Bangor University's top academics has scooped a major scientific prize the same week as he launches a UK-first course.
At a meeting of the world's top wetland scientists in America, Prof Chris Freeman from the University's School of Biological Sciences, was handed the most prestigious award the group can give.
In recognition of his 20-years of pioneering research in the field, Prof Freeman was made a Fellow of the Society of Wetland Scientists.
The announcement was made at the same time as the leading professor launched a unique Masters degree, Wetland Science and Conservation, to be taught at Bangor University.
Prof Freeman was praised by the Society of Wetland Scientists for his groundbreaking work on nutrient and carbon cycling in wetlands.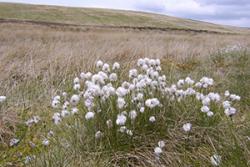 image credit Mark CooperSome of his discoveries are being used in geoengineering projects to help combat climate change, and he has worked on ways of improving drinking water to make it safer and cheaper for British households.
Speaking after he had learnt about his top award, Prof Freeman said: "It's an incredible honour to receive a Fellowship from the Society of Wetland Scientists, and it's great that our work at Bangor University is being recognised on the international stage.
"It's very timely as well because we've just launched a new Masters degree in Wetland Science and Conservation at the university - so it's a real boost for our aim to ensure Bangor is a world leader for the research and teaching of wetland science."
The new one-year postgraduate degree, which is the only one of its kind in the UK, will see students learning everything from how to build constructed wetlands, to the zoology of sub-tropical mangroves.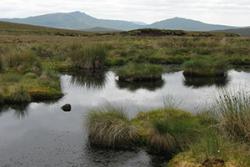 image credit Mark CooperExplaining the importance of wetlands, Prof Freeman said: "Many people take our wetlands for granted, but they're some of the most endangered habitats on the planet and absolutely vital for our existence.
"They provide us with clean water, resources, food and even control our climate."
He added: "People often refer to forests as the lungs of the Earth but wetlands are the heart - without them there wouldn't be much life at all."
Bangor University is keen to hear from anyone interested in starting the MSc in Wetland Science and Conservation this September, and there is even financial support for students from north Wales.
For more information on the course please email Christian Dunn on c.dunn@bangor.ac.uk
Publication date: 16 July 2013