Bangor University set for another busy National Eisteddfod week at Llanrwst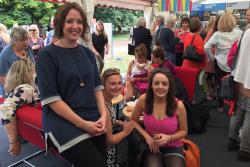 Bangor University's 'reunion' is always an opportunity for graduates to 'catch up' on the Eisteddfod field.Bangor University is proud to be taking part again this year at the National Eisteddfod in Llanrwst.
As well as contributing to activities the on the Maes, there will also be buzz on the University's stand again this year.
Monday sees an interesting discussion 'Siaradwyr neu Defnyddwyr yr iaith Gymraeg' (Speakers or users of the Welsh language)' at 11.00 chaired by Ifor ap Glyn. Participating in the discussion are Aled Roberts, Welsh Language Commissioner, Jeremy Griffiths Executive Director of CaBan, (Initial Teacher Education Partnership), Bangor University and Gwawr Maelor Williams and Prof Enlli Thomas, School of Education and Human Development.
Also on Monday at 14.00 is an event to raise awareness of the support available to people living with dementia, their carers and families: Pontio'r Pobl a'r Gymuned. Following on from the success of programmes such as Hen Blant Bach on S4C, Mirain Llwyd Roberts shares the latest findings from her research on the challenges and barriers faced by projects seeking to bridge the generations.
The University is pleased to welcome Barn Magazine to the stand for their annual event at 15.00 Gareth Glyn discusses 'Llanrwst a fi'. The composer will discuss his family's links with Llanrwst and the song inspired by them.
Leadership at Work is the theme of an event on Tuesday at 11.00. ION Leadership and 20twenty Programmes are offered through Bangor University, and there will be an opportunity to meet some of the program attendees and hear about their experiences and the impact that following the programmes has had on them as individuals and on their businesses.
'Ai Brexit yw argyfwng mwyaf y ganrif?' (Is Brexit the biggest crisis of the century?) is the topic for a meeting arranged by Cymdeithas Cledwyn at the stand at 12.00. Participating will be Susan Elan Jones MP, Ann Clwyd MP and Professor Merfyn Jones.

Then at 13.00 the University's literary students take the lead as Elis Dafydd asks Caryl Bryn, Osian Owen and Llŷr Titus about their creative writing.
Newyddion Heddiw, Newyddion Drwg (News Today, Bad News) is the title of a discussion on journalism in Welsh at 14.00-15.00. Some of the best-known voices of journalism in Wales will be in discussion in the panel, chaired by Bethan Rhys Roberts.

Professor J Lloyd Williams, a native of Llanrwst and former botany lecturer is the focus of attention as Elen Wyn Keen, a postgraduate student at the School of Music and Media discusses.at the University contribution to the Welsh music tradition. A native of Llanrwst, Prof Lloyd Williams contributed to traditional Welsh music. J Lloyd Williams y cymwynaswr Cerdd o Lanrwst is at 15.00 and again on the ENCORE stage on Saturday 10th at 11.00.
Wednesday is always a busy day as the University invites students to come along to the stand to keep in touch at the Reunion at 14.00. Members of Aelwyd JMJ will close the Reunion with a performance at 3.30. The Aelwyd has had a very successful year at the Urdd Eisteddfod, with the choirs and individuals scooping a number of singing competitions, while viewers across the country enjoyed their performance as the Choir reached a semi-final round of Côr Cymru, the S4C program and competition.
Also during the busy day, 'Trysor on Ynys Anial' provides an opportunity to hear a number of University's academic and research staff working in literature, discussing their favourite books in an event organized by the University's Library Service at 10.30.
At 12.00 Allforio Diwydiant Llechi Cymru i'r Byd (Exporting the Welsh Slate Culture to the World) sees discussion panellists Lisa Jên Brown, Eluned Haf, Lord Dafydd Elis-Thomas and Professor Jerry Hunter discussing questions about cultural heritage and the potential impact of securing World Heritage Site designation for the area posed by Welsh Slate Young Ambassadors.
Following the discussion, Lisa Jên from 9bach will perform an acoustic set.
On Thursday at 10.00 Professor Jerry Hunter, Pro Vice-Chancellor (Welsh Language, Culture and Community Engagement) at Bangor University and David Anderson OBE, Amgueddfa Cymru - National Museum Wales, will sign a Memorandum of Understanding to consolidate and move the relationship between the two organizations forward.
Then at 12.45 the School of Computer Science and Electronic Engineering will launch P-ELO, 'Photo-Electric Light Orchestra'. This new project, which starts in September, will work with children aged 9-13 from local catchment schools, to engineer musical instruments using light and coding. The project culminates with a 'performance' in Pontio, and an opportunity for the pupils who have taken part to come together to showcase their achievements.
The John Morris Jones students Society will be welcomed to the stand at 14.00, before the University Harp Ensemble See #Encore above visiting the stand at 15.00-16.00.
On Friday, Cân y Gân celebrates the launch of the CD of the same name, a collection of songs which raise a smile for residents of care homes and others living with dementia, and which is distributed free.
This is the fruits of a project between Merched y Wawr, Welsh Music day and the University's Wales Centre for Ageing and dementia Research.. Alistair Mahoney will discuss his research for his degree in dementia related music therapy, and Dr Catrin Hedd Jones will share the latest developments in ensuring that everyone can enjoy the songs of their youth. Come and enjoy the songs and collect a copy to share. Bit.ly/canyganbangor
Dr Prysor Williams of the School of Natural Sciences will be on the stand at 14.00 discussing whether red meat is greener than we think in Cig Coch - yn fwy gwyrdd nag yr ydych chi'n feddwl?
Saturday's activities include an introduction to the C21 programme by the School of Medical Sciences in conjunction with Cardiff University at 11.00-12.30. This is an opportunity to learn more about the new Medical course at Bangor University.
Fleyr de Lys will play on the stand at 13.00-14.00.
The University is one of the main sponsors of the Eisteddfod's Science and Technology Village. Lecturers and students from the Colleges of Natural Sciences and Human Sciences Colleges and the Language Technologies Unit will be there throughout the week holding activities for children. Programme highlights include the Spectacular Science Show in the Science & Technology Village at 11:15 and 14:15 from Monday 5th August to Friday 9th August. Dr Enlli Harper and Dr Andrew Davies from the School of Natural Sciences will be astounding children and adults alike.
Dr Andrew Davies from the School of Natural Sciences will be launching the first Welsh-medium Periodic Table app for both iOS and Android platforms to celebrate 150 years since its creation at the Coleg Cymraeg Cenedlaethol's stand on Tuesday 6th August between 15:30 and 16:30. The app was developed in collaboration with Galactig / Rondo Media and Gwil Lovgreen, translator and funded using Coleg Cymraeg Cenedlaethol Structural Funds.

Would you like to know more about how Welsh language voice recognition technology works? Would you like to add your own voice to the Common Voice database in order to improve the technology? Then call in at Canolfan Bedwyr's Language Technologies stand to find out more and be a part of the latest developments.
The University is also contributing to the Eisteddfod's #ENCORE classical and alternative music stage. Saturday will see works by Dr Guto Pryderi Puw and David Roche performed on Astrid the Street Organ. On Sunday night there will be a recital of various solo songs by Kiefer Jones, a voice teacher from the School of Music and Media. Tuesday at 15.00 sees a Piano Masterclass with pianist Ifan Llewelyn Jones, accompanist and lecturer in performance. Traditional music and folk singing then comes into focus at 17:00 in a session by Prof Pwyll ap Siôn, one of the editors of the Cydymaith i Gerddoriaeth Cymru (Companion to the Music of Wales). On Thursday at 13.00 you can enjoy a harp ensemble from current and former Bangor University students, with Mared Emlyn, Medi Evans, Alys Bailey Wood and Elain Jones. Later that day, there will be another session of the Cydymaith i Gerddoriaeth Cymru - this time Prof Pwyll ap Sion turns his attention to classical and artistic music. Astrid the Street Organ will appear again on Saturday at 13.00 and a final Cydymaith i Gerddoriaeth Cymru session looks at music culture and the music industry in Wales with Prof Pwyll ap Sion at 17.00.

Dr Guto Pryderi Puw from the School of Music and Media commented on the School's contribution:
"Our varied offer of activities, including a few unusual items, such as Astrid the Street Organ, showcases the kind of activities at Bangor, and showcases the talents of our students and former performance students as well as compositions by postgraduate students and staff."
The legends of the Conwy Valley explode on stage in a contemporary musical circus in Y Tylwyth by Myrddin ap Dafydd, Gwyneth Glyn and Twm Morys. The show by The National Eisteddfod in partnership with Pontio, Bangor University is on Friday 2 August and Saturday 3 August at 18.00
Tickets: www.eisteddfod.cymru 0845 4090 800
Pontio will be present as part of the network of Welsh theatres in the Caffi'r Theatrau in the Drama Village throughout the week. Drop by to collect the latest programme. They also have two other events: Lleisiau'r Stryd: rhoi llwyfan i leisiau'r digartref ym Mangor (Voices of the streets giving stage to voices of Bangor's homeless) at Caffi'r Theatrau Tuesday 6 at 16.00. Gwion Hallam leads a discussion between Mared Huws of Pontio, dramatist Branwen Davies, Hayley Owen of St Mary's Hostel and Ysgol Friars pupils, on the experiences of the 'Llesiau'r Stryd' project by BLAS Pontio. Gwion Aled Williams will read portions of the verbatim drama staged recently.
Llew a'r Crydd is performed on Thursday 8 and Friday 9 August in the Childrens' Village at 12.00, 14.00 and 16.00 with a fun drama workshop looking at the themes of Llew a'r Crudd- suitable for the whole family at 15.00. Two brothers travel the world collecting stories so that they don't get lost. One night at the Eisteddfod when they can't sleep, they tell a story about a boy called Llew, a miserly cobbler, a magical goblin and a princess who wants to do nothing but dance… Join them for a magical adventure stories and some strange puppets…
A joint production between Theatr Clwyd and Pontio, written and directed by Emyr John.

Bangor University staff are also actively involved in Eisteddfod events, and in other events on the Maes.
Dr Llion Jones, Director of Canolfan Bedwyr, Bangor University, is the local poet welcoming the Gorsedd and Eisteddfod to the area at the opening ceremony at 11.00 on Monday 5 August, in the Gorsedd Circle.
Llion answers questions from Professor Angharad Price in the Literature Pavilion 14:15 on Sunday 4 August In 'Trydar mewn Triawdau'.as he gives up his ten years of tweets in the Cynghanedd measure which he has been sharing on Twitter.
Llion Jones is also presenting the adjudication at the Chairing Ceremony on Friday at 16.30 on behalf of his fellow judges, Archdruid Myrddin ap Dafydd and Ieuan Wyn.
Jeremy Williams-Jones, associate lecturer at the Business School is a panellist in the Societies Tent 2 on Wednesday 6 August at 13:30, discussing the challenges of an Independent Wales. Also taking part in the event chaired by Beti George are Carwyn Jones AM and Liz Saville Roberts MP.

Dr Sarah Nason from the School of Law will present the Law Society of England and Wales Annual Lecture on Welsh Administrative Justice: Rights, Duties, and Implications for Legal Services on Wednesday at 16.00 in the Societies Tent 1.
Also on Wednesday at 2.00, Dr Daniel Roberts of the School of Computer Science & Electronic Engineering presents the second Eilir Hedd Memorial Lecture at the Societies tent 2.
Staff and students from Bangor University will receive Sgiliau Iaith certificates on the Coleg Cymraeg Cenedlaethol stand at 16.00 on Wednesday.
Thursday, on the Coleg Cymraeg Cenedlaethol stand, the School of Health Sciences will be providing a health workshop, where visitors can take part in CPR, Mindfulness and Mental Health activities.
Dr Aled Llion Jones will deliver his adjudication of the Her Cyfieithu PEN Cymru competition at the University of Wales Trinity Saint David stand on Thursday. At 10 30. Dr Daniel Roberts presents the Cod i Obeithion project between Widening Access Centre at Bangor University and the Coleg Cymraeg Cenedlaethol.
Prof Jerry Hunter contributes to a panel discussion on waste, Beth i'w wneud gyda'n gwastraff, hosted by the Welsh Youth Parliament in Societies 2 at 11.30 on Friday.
Publication date: 1 August 2019