Doors open to Brambell Natural History Museum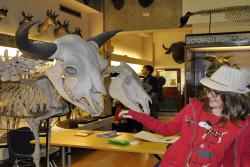 There will be an opportunity for the public to visit Brambell Natural History Museum as part of the Open Doors events on Saturday 28 September 2019.
The Open Doors events gives the public the opportunity to have a look at some of Gwynedd and Conwy's historical buildings, gardens and interesting and unusual locations all for free throughout September.
The Zoology Collection began as a teaching resource, and is still used as such today. This fascinating collection includes full skeletons, skulls, taxidermy, antlers and specimens preserved in fluids, some of which are on display in the Museum housed in the Brambell Building. Visit the University's Natural History Museum not usually accessible to the public and learn more about the animals on display.
The Museum will be open 11.00am-1.00pm and booking is not necessary.
For more information about other Open Doors events across North Wales throughout September, visit cadw.gov.wales/open-doors
Publication date: 19 September 2019