An exhibition, map and app uncovers Bangor's Jewish history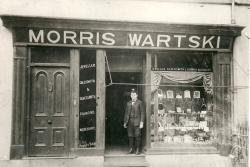 An early image of Bangor's Wartski's shop.A Bangor University Professor is to launch an exhibition, map and app about the Jewish history of Bangor.
Titled A Jewish History of Bangor, the new exhibition and map celebrate the presence of Jews in Bangor from medieval times to the Second World War (and beyond).
The launch will take place at the 'Bangor Arts Initiative' Gallery in the Deiniol Shopping Centre, Bangor High Street, from 2-4 p.m. on Sunday 17th March. All are welcome and it's free.
There will be short introductions by project supervisor, Professor Nathan Abrams of the School of Music and Media at Bangor University, and Gareth Roberts of The Menter Fachwen Walk and Discover Project who assisted with the creation of the map.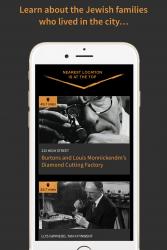 Some images from the app.Local residents are encouraged to come and share their memories of Bangor's Jewish community, including the well-known stores, Wartski's and Pollecoff's.
"The City of Bangor and surrounding areas have had a rich Jewish history," said Professor Abrams. "But unfortunately, as the community has declined and dissolved, and our high street has been transformed, not many people know of this history."
Abrams added, "It's right there in front of our eyes but hidden in plain sight. And this map, app and exhibition not only records this history but also helps you to find it."
"We hope that people will come and tell us their stories before they are forgotten."
Jews moved to Bangor in larger numbers in the late nineteenth century. They were escaping persecution in Eastern Europe but also wished to better themselves in Britain.
Bangor provided exciting new economic opportunities. As the community grew, there was a synagogue and even a kosher butcher.
Jews fleeing the Nazis settled in Bangor or were evacuated here during World War II.
Jews integrated very well into the local community, even learning Welsh and participating in local Eisteddfodau.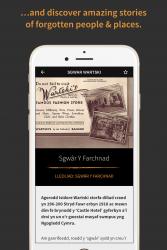 Some of them, like Isidore Wartski, had a transformative effect on the city, helping to build new housing projects and dropping the tolls on the Menai Bridge.
"The exhibition, map and app were funded by the Bangor University Economic and Social Research Council Impact Acceleration Account to which we are very grateful. It has helped to transform my long-standing interest and research into the Jewish history of Bangor into these tangible items."
"Ideally, we would like to roll this out to the other towns in North Wales which had Jewish communities, namely Colwyn Bay, Llandudno and Rhyl but are in need of some more funding. Please do come forward if interested."
Publication date: 6 March 2019