Boost for Bangor University as new term gets underway
Welsh language provision at Bangor University has received a significant boost due to funding by the Coleg Cymraeg Cenedlaethol.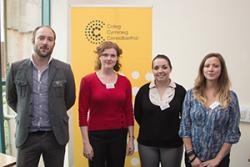 New lecturers: Llyr ap Cenydd, Sara Closs-Stacey, Hayley Roberts and Dr Nia Griffith, Beryl Cooledge not pictured.The university has appointed four lecturers through the Coleg's Academic Staffing Scheme to work in Psychology, Law, Computer Science, Nursing and Health Care and Accountancy.
Dr Nia Griffith is familiar with the Coleg Cymraeg Cenedlaethol as she was funded by the Coleg to study masters and PhD in psychology in 2006. She was then made Teaching Fellow at the university before being appointed Welsh medium lecturer.
Former Bangor University student Hayley Roberts will join the Department of Law as Welsh medium lecturer. During her PhD she taught both contract and commercial law through the medium of Welsh. Hayley's main expertise is law of the sea due to her interest in the RMS Titanic shipwreck.
Llyr ap Cenydd was one of the first people to study Computer Science at Bangor University. He continued with his postgraduate studies before being appointed researcher within the department. He has already gained valuable experience of teaching Welsh language students at the university.
Beryl Cooledge spent years nursing in an intensive care unit before taking up a teaching role at Coleg Llandrillo. As lecturer in nursing and health care with Bangor University, Beryl hopes to encourage students to communicate with patients in their mother tongue.
Sara Closs-Stacey will join Bangor University Business School after working as a lecturer in accountancy and taxation. Sara is currently researching into the tax system in Britain.
Dr Ioan Matthews, the Coleg Cymraeg Cenedlaethol's Chief Executive said: ''We are glad that Bangor University has been able to appoint these individuals through the Coleg's Academic Staffing Scheme and wish them well in their new posts. I look forward to seeing the Welsh language provision grow over the next few years as a result of the Coleg's investment.''
Wyn Thomas, Pro Vice-Chancellor at Bangor University said: "As the University which provides the greatest number of opportunities to study in Welsh we're extremely pleased to welcome new mebers of staff who will be be contributing to that provision, and who will be making a valued contribution to Welsh life at the University."
Publication date: 3 October 2013