Enterprising Students rewarded by Bangor University
Bangor University has awarded new Entrepreneurship Scholarships worth a total of £5,000 to its students to mark the end of the academic year.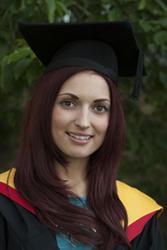 Catrin Hicks from Blaenau Ffestiniog who has won a Santander-Abbey 'Excellence in Enterprise Scholarships' of £1,000.Lowri Owen, Enterprise Support Manager with B-Enterprising, which supports hundreds of students every year to develop their enterprise and entrepreneurial skills said: "We're delighted to have been able to nominate the successful graduates for these awards and look forward to providing continued support through the HEFCW funded Enterprise Support Programme and the Welsh Government funded Graduate Start Up Support Programme to help them develop their businesses."
Two Santander-Abbey 'Excellence in Enterprise Scholarships' of £1,000 each were awarded.
The first was Awarded to Catrin Hicks, who recently graduated with a degree in Design & Technology with Qualified Teacher Status. Catrin, 21 years old and from Blaenau Ffestiniog is to begin teaching part time at Ysgol Maes Garmon, Mold teaching Textiles and cookery.
As part of her undergraduate degree, she developed an eyelash applicator. She entered her design in the Santander Entrepreneurship Awards earlier in the year and won the undergraduate prize.
She now hopes that this Scholarship will enable her to develop her product, and she will receive further advice and assistance from B-Enterprising at the University to do this.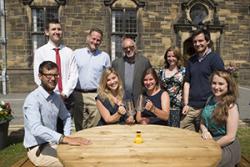 l-r back: Ben Haines, Dr James Intriligator, School of Psychology; Jamie Muir, Chris Walker, Enterprise Support Programme; Eirian James, B-Enterprising. Seated: James Gudgeon,Theresa Schween, Emma-Louise Jones and Maria O Reilly.On the day she graduated, Catrin welcomed news of the Scholarship saying: "I can begin my part-time teaching post-stress free as I now have the money to develop the project."
A team of student entrepreneurs, whose project 'University of Ales' goes from strength to strength also received a Scholarship. The Team represented Wales in the UK finals of the Young Enterprise Start Up Programme winning an award for the Best Investment Proposal/Company Report. They also won the post-graduate Award in Bangor University's Santander entrepreneurship Competition. The Team, comprising Jamie Muir, James Gudgeon, Emma-Louise Jones, Theresa Schween, Maria O'Reilly and Ben Haines came together to take part in the Young Enterprise project and combined their Business and Consumer Psychology knowledge to come up with a business plan to work with local breweries remarketing their ales under a new brand aimed at attracting a younger student market to a product traditionally marketed at the older male, helping them access a new younger market.
They hope to use the Award to look at ways to take the idea further and make it a reality.
Three 'Outstanding Enterprising Student' Awards are being shared between four students.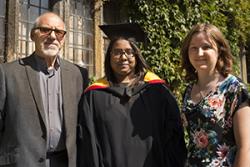 Graduate, Kalaivani Krishnanmurthi is seen with Chris Walker, from the Enterprise Support Programme and Eirian James of B-Enterprising.The first is Kalaivani Krishnanmurthi, a Bangor Business School Graduate, who has developed and launched two mobile phone apps and who hopes to open a business on Bangor High Street in the near future.
Computer Science graduates Lee Williams from Benllech and Shane Parker, from Llanystumdwy who have developed a business; Red Dragon to develop bespoke software and mobile applications and provide web services, share a Scholarship.
They are due to launch their first app this autumn with three more in development ready for launch early in 2014. Lee and Shane are receiving support under the Welsh Government Graduate Start-up Support programme with mentoring provided by Tim Ashcroft from Innovas. As part of this they are hoping to gain a bursary to support the development of the company.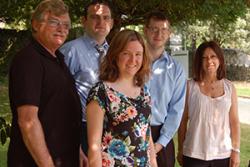 L-R back row: Tim Ashcroft, Innovas; Shane Parker; Lee Williams, Ceri Jones, B-Enterprising, Front: Eirian Jones, B-Enterprising.Thirty-one year old Shane, who previously studied at Coleg Harlech, said: "I'm honoured to be able to represent Red Dragon Softworks Ltd as an award winning company. I'm very grateful to the B-Enterprising team and to Tim Ashcroft for their support."
Twenty year old Lee, a former Ysgol Syr Thomas Jones pupil said: "I'm surprised, proud and happy to receive the award, which goes to show that our business venture is well worth the hard work and effort."
"These two graduate entrepreneurs are taking a highly professional approach and I am sure they will succeed", said their mentor, Tim Ashcroft.
Business Studies and French graduate Emma-Louise Jones, who as well as being a member of the University of Ales team, won the highest amount of xp (points) for enterprise activities in the Bangor Employability Award (BEA) also receives a Scholarship. The BEA is a University scheme designed to help students develop their skills through the extra and co-curricular activities.
Publication date: 31 July 2013