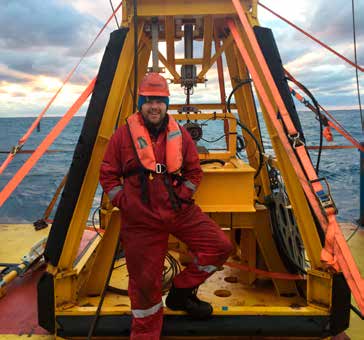 Alumni Profile: Ben Allinson
Course: MSci Geological Oceanography
Occupation: Geotechnical Engineer / Geophysicist for an offshore survey company.
"As I was searching through Universities I discovered Bangor. Once shown around the Ocean Sciences facilities, I immediately said "This is the place I want go.
Between the mountains, the beaches and the close community that you will undoubtedly find in the Ocean Sciences department at Bangor University, I can certainly say I made the right choice.
I enjoyed being so close to Snowdonia and Anglesey. Having the option to go climb a mountain after a lecture or sit on a beach with ice cream only a few Universities in the country can offer.
I enjoyed every aspect of my degree. The course was difficult but rewarding. Certainly in the final year, when you are trying to keep a part-time job, juggle assignments and writing a thesis. But the experience I gained is priceless. Being taught by people who are passionate about their subject and research kept my attention and left me wanting to find out more.
Since starting my career I have been up and down the Norwegian Coast Line, endured the permanent daylight of Summer in the Barents Sea, survived the heat of Papua New Guinea, haggled with Singapore shop keepers and enjoyed the sights of the New York skyline. It all began with choosing to study at Bangor University."