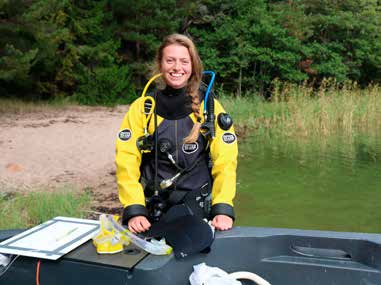 Alumni Profile: Charlotte Angove
Course: MSci Marine Biology
Occupation: PhD student at University of Helsinki, Finland.
"I am currently based at a research station in southern Finland whilst doing a PhD at the University of Helsinki. My research is focussed on aquatic plants. As a benthic ecologist my work is primarily with data collected from the field, which involves a lot of scuba diving!
I have had the privilege to travel for work; joining a field campaign which surveyed the western coast of Australia and co-leading a field campaign in Sweden. I have also presented my research at major international conferences.
When I came to Bangor I loved living in the vibrant student community with so many activities to take part in. It was a hive of activity for student clubs, sports and events. I really enjoyed how the course taught us to think like scientists. It was very hands-on, with lots of fieldwork and I learnt many skills which are very useful for the work I am doing now."