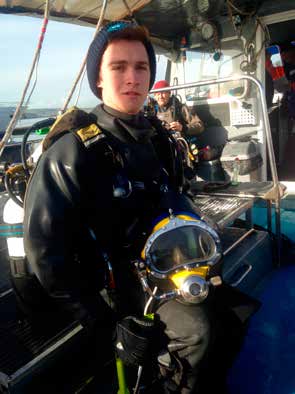 Alumni Profile: Jake Davies
Course: BSc Applied Marine Biology
Occupation: Project Coordinator for Angel Shark Project: Wales, lead by Zoological Society of London and Natural Resources Wales
"Initially I chose to study at Plymouth University but then moved to Bangor after a year as I thought I'd get more opportunities as well as being able to save money and do more diving.
I enjoyed all aspects of the course. The staff were great and all really helpful. But what I enjoyed the most was the opportunity to undertake a variety of trips on the Prince Madog as well as the overseas field trip to Virginia.
Marine Biology is a very competitive field therefore obtaining as much experience as possible was important. I ensured that I worked hard during term to make the most of the valuable lectures and coursework that was set.
I was also able to take a placement year. For this I was fortunate to have obtained a year with Natural Resources Wales where I gained a variety of experience and skills in both field and computer work. As part of the year I did a range of field work including habitat mapping and ship based survey work, both of which I already had experience of from my studies at Bangor."