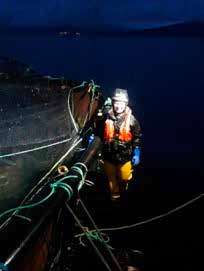 Alumni Profile: Tilly Painter Jones
Course: MSci Marine Biology and Oceanography
Occupation: Works in the aquaculture industry in Scotland.
"I loved this course for its breadth of topics, ranging from fish biology and animal behaviour to sediment dynamics and glaciology. Its interdisciplinary nature has set me up well for the world of work. For me the best thing about studying at Bangor is the high level of support you receive from the School of Ocean Sciences.
This included great supervisors, enthusiastic lecturers, mentoring tutors and helpful technical staff. This has given me the confidence and opportunities for overseas travel and to present my fourth year research work to an international audience at a conference, as well as the independence to do my current job.
I am now working as an environmental specialist in the aquaculture industry in Scotland, making good use of the practical skills I gained at Bangor including the opportunities for ship based fieldwork."