Dragons are a hit with Kenya alumni!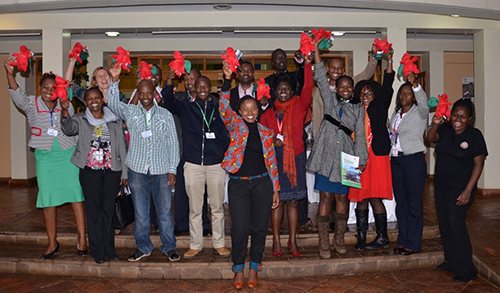 On the 21st November 2016, with support from the International Education Centre, staff from the School of Environment, Natural Resources and Geography (SENRGy) hosted an event at the World Agroforestry Centre (ICRAF) in Nairobi for Kenyan alumni, current and prospective students to share stories, network and to hear about recent developments at Bangor University. Dr Fergus Sinclair, Senior Lecturer in Agroforestry at Bangor University and Science Domain Leader at ICRAF, gave a warm welcome to everyone at the cocktail reception and emphasized the strong links that the University has with ICRAF and other institutes in Kenya. These links provide our MSc and PhD students with excellent research opportunities, with 4-6 MSc students each year placed on fellowships with ICRAF. There are currently four ICRAF members of staff undertaking PhDs in SENRGy as external candidates; facilitated by the collaborative agreement we have with this major global research organisation.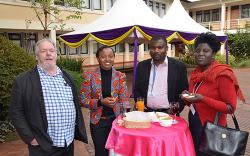 Fergus Sinclair, Susan Chomba (MSc Agroforestry 2008), Moses Nyongesa (PhD Crop and Soil Science 2014) and Isabell BiketiProfessor of Conservation Science Julia Jones gave a talk about the courses currently available and the funding opportunities for international students including the Commonwealth Shared Scholarship Scheme whereby Bangor University and the Commonwealth Scholarship Commission are jointly funding six MSc scholarships for September 2017 entry. Highlighted were the distance learning opportunities now available at the University, in particular the MSc Tropical Forestry programme that we have seen many East African students successfully graduate from.
Since graduating from Bangor University, people have gone on to varied and interesting careers including leading research activities at ICRAF, Kenya Forestry Research Institute, Kenya Agricultural and Livestock Research Organization, and teaching at national universities.
Our alumni all spoke of their time in Bangor with great fondness and appreciation of the friends and skills they gained while studying at the University.
"Bangor was really great for me: a fantastic experience. The scenery, the students, the people and the town were so great. The only thing which was bad was the weather!" Raila Odinga Junior, son of the former Prime Minister of Kenya (BA Accounting and Finance graduate 1999-2002)
"What I remember about Bangor were the staff that really guided me into critical thinking and starting to apply my knowledge in practical aspects. I really enjoyed my academic and social life. I also enjoyed eating lovely scones on the pier! It was fantastic - really great." Susan Chomba (MSc Agroforestry graduate 2007-2008)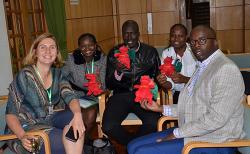 Julia Jones with Judith Bala, George Ndege (distance learning MSc Tropical Forestry student), Pauline Bala (MSc Environmental Forestry 2013-14) and Raila Odinga Junior (BA Accounting and Finance 2002)Prof Julia Jones said "It was such a pleasure to hear former students sharing stories of their time in Bangor some of whom graduated more than 30 years ago and some who just graduated last year. It is clear that they all feel a strong connection to the place. Many of the alumni I met have gone on to have very interesting professional lives which were fascinating to hear about."
Dr Fergus Sinclair said "Over the last few years we have been successfully reconnecting with both alumni who we've taught personally and those who undertook their degrees in other departments, the common connection is Bangor and this always reveals itself to be a strong bond. It is fantastic to see students a few years or many years down the line forging careers based on what they studied at Bangor University."
Publication date: 23 November 2016