PhD student attends launch of parliamentary report on hunger
A PhD candidate who contributed evidence towards a major parliamentary report on hunger in the UK has attended the London launch of its follow-up document.
David Beck, whose PhD focuses on the growth of food banks in Wales, was initially invited to share the findings of his doctoral research with the All-Party Parliamentary Group on Hunger, whose inquiry into hunger in the United Kingdom was published in December 2014.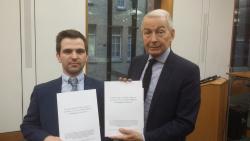 PhD student David Beck, left, with Frank Fields, MP for Birkenhead, at the launch of the latest report by the All Party Parliamentary Group on Hunger
His research, which was gathered from interviews with food bank users and volunteers throughout Wales, demonstrated that there was a link between the growth of food banks and the austerity measures imposed by the UK government.
The inquiry concluded that food poverty was a very real issue in modern Britain, and proposed the formulation of a body comprised of the "food bank movement", governmental departments and other relevant figures.
The follow-up report, for which David's research was once again used, was launched in Westminster on Thursday, 10th December, with an introduction by Justin Welby, the Archbishop of Canterbury.
It reveals that some inroads have been made into tackling the issue following the initial recommendations, but that long-term reform may take many years to be realised.
David was invited to the launch event at Portcullis House by Frank Fields, MP for Birkenhead and co-author of both reports, to whom he submitted 18 months' worth of research.
"There is a lack of evidence surrounding food poverty and the spread of food banks, hence why I was approached by the APPG", explained David, from Bolton. "Whilst undertaking my research it became evident that the rise of food banks is linked to the growth in food poverty, and people not having access to an adequate amount of food. The predominant reason behind this is that people are suffering at the hands of the punitive benefits system.
"Between 1998 and 2010, under the Labour government, there were 16 food banks in Wales (this was under the labour Government). Since 2010, under the Conservative government) this number has risen to 157."
David is a volunteer at the Cathedral Food Bank in Bangor, who were one of many local independent food banks to attend the event. "The launch was very well received by the audience, which was formed from other bodies who had submitted evidence, including the Child Poverty Action Group, Christians Against Poverty, FareShare, The Trussell Trust."
David is in the third year of his PhD, jointly supervised by the School of Environment, Natural Resources and Geography, the title of which is 'The Changing Face of Food Poverty'.
Publication date: 17 December 2015